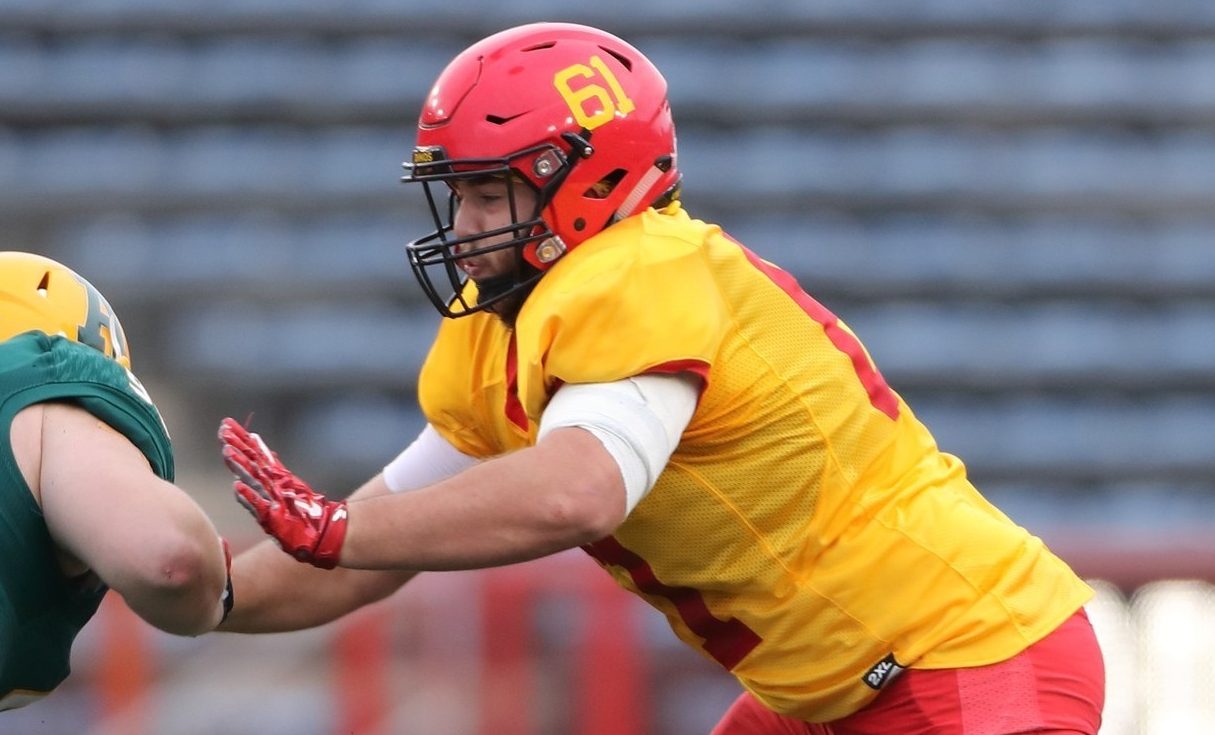 CALGARY – Ahead of this weekend's Spring Camp at McMahon Stadium, the University of Calgary Dinos football team is pleased to announce its recruiting class for the 2017 season.
Today, we introduce 12 offensive athletes who have committed to the Dinos, part of the overall recruiting class of 45 that is one of the strongest in Dinos history and made up almost entirely of players from Calgary and Southern Alberta.
Of the dozen, 11 are from Calgary with the one holdout hailing from Cochrane, Alta. And for Dinos Head Coach Wayne Harris, this outstanding local talent is going to be key to the Dinos' success over the next few years.
"This offensive line group is big and strong – they're a great group, all from Calgary, they're excellent students, and we have three players from Team Canada's U19 program," Harris explained. "The future of our team will be this group of offensive linemen as our current players move into the CFL.
"At quarterback we brought in two outstanding young men from Calgary who have strong academic backgrounds and have dedicated themselves to getting better. We run a cerebral offence, and we need smart guys in that position, and both of their backgrounds lend themselves well to how we run things. At running back, we are excited about the guys we brought in. That wasn't our primary area of need this year, but these players will be able to challenge the returning group and add to our depth."
Along the offensive line, the Dinos welcome four CFC100 players ranked by canadafootballchat.com in Tyler Packer, Tristan Rice, Logan Bandy, and George Hutchings. Packer was Notre Dame's MVP last year and a league all-star who played for Canada at the U19 International Bowl and brings outstanding size and athleticism with his 6-foot-5, 270-pound frame. Rice, another CFC 100 player, joins the Dinos from Centennial High School, after also representing Canada in Florida last January.
Logan Bandy grew up watching the Dinos and will bring his talents down the road from St. Francis High School, where he won the city and provincial 4A titles last year. A two-year veteran of the Alberta U18 team, the talented offensive tackle anchored the Browns' offensive line with his 6-foot-5, 240-pound frame.
George Hutchings played at Calgary's St. Mary's High School before heading to Aurora, Ont. for his final two years of high school at St. Andrews College. The 6-foot-3, 300-pound lineman was at the 2016 International Bowl with Team Canada and starred for St. Andrews, one of the top high school football programs in the nation.
Also from St. Mary's, the Dinos welcome award-winning O-lineman George Gagnon. An honours student and his high school's student council president, Gagnon was 2016 recipient of the Stan Schwartz Heart of a Champion award and also captured the Harry Hood Award as the most outstanding student-athletes in Calgary high school football. On the field, he represented Alberta at the Canada Cup and was a two-year starting centre for the Saints, helping them to the Division II city championship in 2016.
Rounding out the Dinos' class on the offensive line are Daniel Townsend, who committed to the program out of Notre Dame in 2016 before electing to defer for a year to attend Royal Imperial Collegiate in St. Catherine's, Ont., while Logan Wall makes the move up to U SPORTS after beginning his post-secondary career with the Calgary Colts.
At quarterback, the Dinos welcome Cole Belway from St. Francis along with Dylan Coveney from Henry Wise Wood. Belway is the son for former Dinos defensive lineman and CFLer Brian Belway, a 1985 Vanier Cup champion. The younger Belway is a multi-sport athlete who came late to football but still managed to lead the Browns to the city and provincial titles in 2016. Coveney, meanwhile, brings significant athletic tools from Wise Wood and the Calgary Bulldogs program, where he also played receiver and kicker in addition to quarterback.
At running back, the Dinos welcome home Myles Browne, a 2014 CFC 100 player from Notre Dame who played in the RSEQ for Concordia University before electing to transfer back to Calgary. He will be eligible immediately. At Notre Dame, Browne was offensive MVP in 2014 and started for their 2013 city and provincial championship team and is yet another veteran of Canada's International Bowl squad.
Ethan Moroz of St. Francis and Kane Boklaschuk from Cochrane round out the running back recruits. Moroz has won at every level in his career, including midget, high school junior, and high school senior, while the 6-foot-2, 210-pound Boklaschuk should see action at fullback with the Dinos after winning a pair of provincial 3A titles with the Cobras.
Spring Camp gets underway Friday at McMahon with the first practice beginning at 10 a.m. The weekend wraps up Sunday with the annual scrimmage at 12:30 p.m.
Offensive Line
CFC100 Bandy, Logan / St. Francis HS / Calgary
Gagnon, George / St. Mary's HS / Calgary
CFC100 Hutchings, George / St. Andrews College / Calgary
CFC100 Packer, Tyler / Notre Dame HS / Calgary
CFC100 Rice, Tristan / Centennial HS / Calgary
Wall, Logan / Calgary Colts / Calgary
Townsend, Daniel / Royal Imperial Collegiate / Calgary
Quarterbacks
Belway, Cole / St. Francis HS / Calgary
Coveney, Dylan / Henry Wise Wood HS / Calgary
Running Backs
Boklaschuk, Kane / Cochrane HS / Cochrane, Alta.
Browne, Myles / Notre Dame HS / Calgary
Moroz, Ethan / St. Francis HS / Calgary
Source: Calgary Dinos
Advocating for football prospects one story at a time.