The Acadia Axemen have announced the addition of both Braden Vankoughnett and Moises Rivera to their football program.
Both recruits will join the Axemen for the 2016 AUS season.
With these additions, the Axemen hope to bring added speed, experience and talent to their defensive unit.
"These two players will bring a toughness and veteran presence with them from their respective programs," commented Axemen Head Coach Jeff Cummins.  "Each guy has the skill and ability to become focal points on the defence and fill some voids left by graduation."
"We are really happy to have a quick physical defensive tackle in Moises Rivera to run with our All-Canadian Adam Melanson. With Braden, he will walk into a great opportunity at the Linebacker position to play a big role on Defense and long snapping on specials."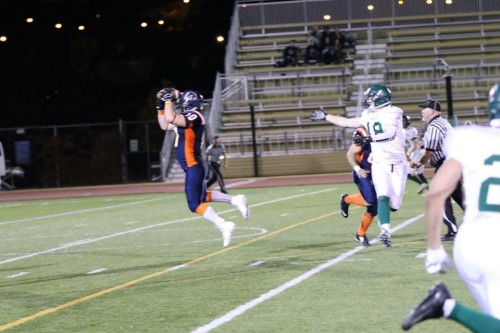 Vankoughnett is a 5'11, 220 pound linebacker from Winnipeg, Manitoba.  During a brief stint with Kamloops Broncos of the British Columbia Football Conference (BCFC) in the Canadian Junior Football League (CJFL), he registered 45 tackles, recorded 1.5 sacks, a fumble recovery and caught an interception which he converted into an 18 yard touchdown score.
Previous to the Broncos, the linebacker suited up for Dakota Lancers of the Winnipeg High School Football League (WHSFL).
"I am very excited to join the Acadia Axemen," expressed Vankoughnett.  "They were the first school that recruited me back in high school and were the first to call me every season since so making this choice was easy for me."
"It's a very good school, and the coaches are great. They are a top team that compete in the conference every year and I'm excited to come in and compete and be apart of that!"
As for Rivera, he is a 6'1, 285 pound defensive tackle from Miami, Florida.  Most recently, he played for Kansas team, Independence Community College Pirates.
Part of the reason that Rivera opted to come to Canada and join the Axemen was the chance to be reunited with former teammates and current Axemen  – offensive linemen Sheton Williams and Lawrence Williams.
"I had my eyes on Acadia since my freshman year something about it came to  my attention I have two former high school teammates there; Shelton and Lawrence those are my guys," recalled Rivera.  "Shelton and I always stayed in contact; I would always check in on him ask him about the school and how is it over there and he would tell me and I would stay interested."
"I ended telling him to put me on with his head coach put in word for me and he did."
Ultimately the moment crossed paths with Cummins, Rivera's concerns were put to rest.
"Once Coach Cummins called we talked about a few things; we had similar situations and he's the person I feel should guide me for the years i have left in my collegiate career," expressed the defensive tackle.  "Acadia runs a defense I believe iI fit in perfectly and can make things happen."
"What really convinced me to attend the school is the academics. Coach Cummins really made sure i understood how important it is to the university and myself to get right."
(twitter: http://twitter.com/vohra_ameeta)
Advocating for football prospects one story at a time.