Brampton slotback newest recruit to join OUA team's 2014 class.
Stone Sousa will play at the CIS level in Canada's most populous city.
The 5'8, 150 pound slotback/return specialist  from Brampton, Ontario has committed to the University of Toronto Varsity Blues for the 2014 OUA season.
Academics played a prominent role in his decision.
"I committed to the University of Toronto because of their world-class academics," explained Sousa of his decision.  "Being one of the top academic institutions, not only in Canada, but in the world will provide me with the resources and expertise that will enable me to become a successful individual off the field as well as on the field."
"Football doesn't last forever, but knowledge does, so academics were the main focus when it came to choosing University of Toronto."
Moreover, Varsity Blues assistant coach Nate Weiss was an influential factor.
"Football wise, Coach Nate Weiss, who was one of my recruiters (Varsity Blues Quarterbacks Coach) and my former coach at Brampton Bulldogs was another reason why I decided to commit to University of Toronto," expressed the Brampton slotback.  "He has been instrumental in my development as a player, and more so as a wide receiver as he brought me over to the offensive side of the ball when I was in Grade 9."
"I have flourished at the wide receiver position ever since and credit Coach Nate Weiss for playing a big role in my progression as a player."
There were other reasons why Sousa chose the Toronto, Ontario campus.
"Also, I like the direction that the University of Toronto's football team is headed," said Weiss.  "Being a part of an up and coming team that wants to prove itself to the rest of the CIS made me want to come here even more and contribute in any way they need me to.When I went on my visit to University of Toronto, I fell in love with the university and knew that it was the place for me.  "
"Furthermore, University of Toronto will have some of the best, if not the best, facilities in Canada with their new state-of-the-art athletic centre (Pan Am Games). Although, this wasn't a major factor in my decision, it's good to know that the school cares about its athletics and will provide all the necessary resources for the program to succeed. Additionally, living in a big city was key. With Toronto being the largest city in Canada, I will have everything I need while being close to my hometown of Brampton."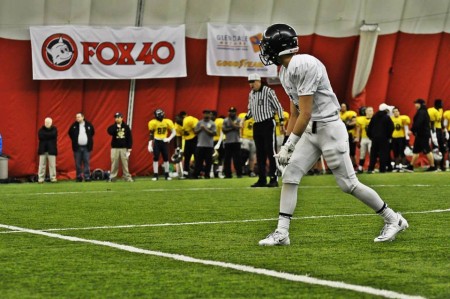 Sousa played high school football for the Notre Dame Knights of the Region of Peel Secondary School Athletic Association (ROPSSAA).  Additionally, he has suited up for the Brampton Bulldogs of the Ontario Varsity Football League (OVFL).
Among the honours he has received during his career include OVFL junior varsity All-Star selection (2011, 2012), OVFL junior varsity Prospect (2012, 2013), OVFL Adams Provincial Conference Junior MVP (2012), FBU Top Gun Invitee (2012), and Notre Dame C.S.S. Junior Overall MVP (2012).  Academically, he was on Notre Dame's Honour Roll in grades 9 and 11.
(twitter: http://twitter.com/vohra_ameeta)
Advocating for football prospects one story at a time.