Canadafootballchat.com (CFC) will be recognizing the top Canadian born high school players of the week. If you have a player who you think we should recognize each week for their performance, please email us their full stat line each week by Tuesday to the CFC Scouting Bureau.
CFC High School Players of the Week (10)

Mike Herzog (7) (Credit: Ryan McCabe, CFC)
Offensive Player
Name: Mike Herzog
Position: Running Back
School Team: CFC50 Holy Names Knights (Windsor)
Year: Senior
W 21-17 v. CFC50 London South (Western Bowl Champions) – Herzog took over the game in the fourth quarter as he rushed for 136 yards on 22 carries and 1 rushing touchdown. He also had 2 receptions for 104 yards and 1 receiving touchdown. Herzog scored the only 2 majors of the game for his team leading the Knights to their upset victory over the previous No. 1 CFC50 ranked South Lions.

Yanni Angelopoulos (70) (Credit: Katie Burt, CFC)
Defensive Player
Name: Yanni Angelopoulos
Position: Defensive tackle
School Team: CFC50 New Westminster Hyacks
Year: Senior
W 15-14 v. CFC50 Terry Fox (AAA Provincial Championship BC) – Yanni had 8 solos, 4 assists, and 3 TFLs and was a dominate force as the Hyacks won their first AAA Provincial Championship in program and school history.

Matthew Hewa Baddege (78) (Credit: Katie Burt, CFC)
Lineman
Name: Matthew Hewa Baddege
Position: Offensive tackle
School Team: CFC50 Terry Fox Ravens
Year: Junior
L 14-15 v. CFC50 New Westminster (AAA Provincial Championship BC) – Baddege was a physically impressive as the Ravens offense rolled up 272 yards rushing against a New West defense that only surrenders 90 yards rushing per game. He also paved the way for teammate Cade Cote's 85 yard+ touchdown run.
Criteria
This will be based off player's individual and/or team performance using verified stats. The awards will include:
Offensive Player of the Week
Defensive Player of the Week
Lineman of the Week
The offensive and defensive players will be judged on their individuals stats while the linemen will be selected via a) stats for the defensive linemen and b) overall offensive team performance and number of total yards gained for offensive linemen. (We will include Special Teams players in honorable mentions should they gain our attention.)
Candidates must be attending and enrolled in an accredited high school program. This will not include Cégep players, they will be identified in a separate, but similar, format on a weekly basis.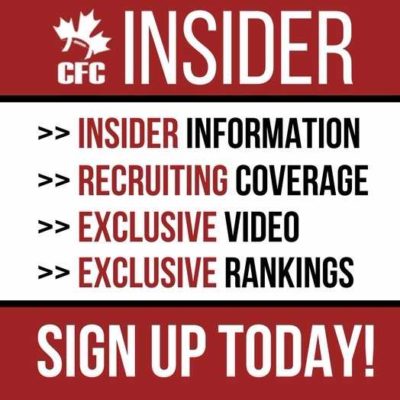 Advocating for football prospects one story at a time.