CanadaFootballChat.com brings you the Top 10 National High School Games of the Week.  Each week, we will share with you the must see games of the week.
CLICK HERE TO VIEW CFC 10 NON-PUBLIC SCHOOLS
10) ALBERTA:
6-Man
Breton Cougars at Oscar Romero Ravens
Friday, October 23, 6:00 p.m.,  Millwoods Field Turf (Edmonton)
Now that's a smart way to do it.
So, this past off-season  Archbishop Oscar Romero H.S. in Edmonton wanted to form a football team. The school, which opened in 2004, could have chosen to take their rookie licks in the Metro Edmonton 12 man league this year or follow Eastglen's lead in how to start (or revive as was in the case of the Blue Devils) a football team in stages, thus the reason the Ravens are a 6-Man team for 2015.  In the early 2000's the Eastglen Blue Devils were operating on fumes.
Low enrollment and demographic issues were dogging them to the point where they almost folded their football program.  Instead they dialed it down to 6-Man and after years of success at that level have moved up again to the 12-Man  level and are a competitive team in the Metro Edmonton's Division 3.
This is the path the Raven's have chosen and although they will not be eligible for 6-Man Provincials as their school is too large in population, it's a great way to start things off.  And they've been competitive as well.
This week, however, they get one of  the old guard of the 6-Man game as the 4-1 Breton Cougars come to town.
Source: Alberta Schools Athletic Association
9) NOVA SCOTIA:
CFC#24 Citadel Phoenix @ Charles P Allen Cheetahs
Thursday October 22nd, 7:00pm, Bedford Hammonds Plains Turf
Even though this is the second time this season these two teams have met, it is expected to be an equally thrilling and dramatic game from start to finish.
Exactly one month ago, a late comeback attempts from the Charles P Allen Cheetahs fell short and CFC#24 Citadel Phoenix hung on for a 20-17 win.
However, a lot of time has elapsed from their previous matchup and a tale of two different squads enter this match.  The Phoenix have momentum as the team has kept their perfect record intact.  Meanwhile, the Cheetahs are coming in after losing a tough 20-10 battle against Sir John A MacDonald Flames.
This game will showcase arguably the top pivots in Nova Scotia this season – Duncan Patterson of the Cheetahs as well as both Cameron Valardo and Monecko Clayton of the Phoenix.
If anyone has the potential to hand the Phoenix their first loss of the season, it is the Cheetahs.  The big question is do they enough hunger to get the job done?
"As per every year Citadel is a very good, very well coached football team with great athletes and lots of depth," commented Cheetahs Head Coach Michael McPherson after their previous game last month.  "We will need to eliminate some of the penalties and play a full quarters in future meetings."
"Although we will see Citadel again in the regular season with the league as competitive as it is it will be important we focus on our weekly opponent and getting better every day."
Showtime, Cheetahs!
8) ONTARIO: 
CFC#22 Jacob Hespeler Hawks @ Preston Panthers
Friday October 23rd, 3:00pm
Two undefeated squads and rivals will battle each other in the hopes of gaining supremacy in the Waterloo County Secondary School Athletic Association (WCSSAA).
Preston Panthers will host CFC#22 Jacob Hespeler Hawks in what is expected to be a duel full of fireworks from both sides.
Carlos Galinda is firing on all cylinders for the Hawks defence.  In last week's win over Elmira Lancers, Galinda tallied four majors and will play a significant role in the Hawks offence once again this week.
Defensively, the Hawks will have 2013 Defensive MVP Mario Pineda anchoring the unit. Linebacker Jared Beeksma will be another one to watch for as he will give the Hawks a hard time and try to stop them from getting anything going on Friday.
For the Panthers, slotback Ty Farrell and Matt Walsh will be the catalysts for the team's offence.
Panthers players want to eradicate the thought of a 35-0 suffered at the hands of the Hawks over a year ago. With the support of the home crowd, there will be added fuel to hand their rivals their first loss of the season
7) SASKATCHEWAN:
Winston Knoll Wolverines @ Sheldon Williams Spartans
Friday October 23rd, 5:15pm
It's playoff time in Regina!
On Friday night, Regina Intercollegiate Football League (RIFL) 4A Schwann Conference Playoffs begin with quarterfinal action.  The most highly anticipated one sees the Winston Knoll Wolverines visiting Sheldon William Spartans.
If their previous meeting is any indication, fans in Regina are about to witness another exceptional game.
Over two weeks ago, the Spartans won a tight 17-13 contest over the Wolverines.
The Wolverines will have to contend with tough Spartans offensive and defensive lines led by Dawson Mucha.  On defence, the one to watch for is linebacker Isaac McCallum.
Defence and special teams will dicate the outcome of this hyped up, heated quarterfinal.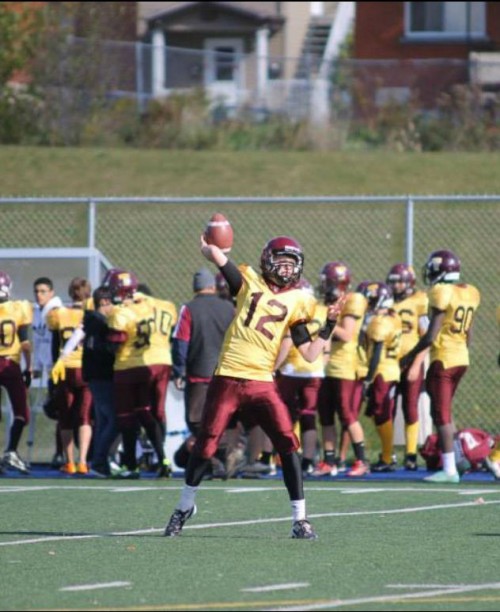 6) QUEBEC:
CFC#46 Triolet Harfangs @ CFC#3 Seminaire Saint-Francois Blizzard
Saturday October 24th, 1:30pm, Seminaire Saint-Francois
The last game of the RSEQ Juvenile Division 1 regular season involves two #CFC50 teams.
Both CFC#46 Triolet Harfangs and CFC#3 Seminaire Saint-Francois Blizzard will use this game as a tune up for the postseason. However, the Blizzard want to end their season perfect abnd the Harfangs want momentum to shift back toward them.
Last year was when these two squads last met and the Blizzard had little trouble, cruising to a 57-7 win.
The Harfangs have greatly improved from a year ago and their offence is dangerous led by pivot Thomas Bolduc and receiver Benjamin Rheaume.
However, the Blizzard hope that pivot Thierry Doucet and running back Kalenga Muganda can continue to create the same offensive magic they have done this fall. Receiver Vincent Charbonneau is another one that will figure prominently in the offence output.
This sets up to be a fitting ending to the regular season.
5) ONTARIO:
CFC#3NP St. Andrew's College Saints @ CFC#2NP Trinity College Bears
Saturday October 24th, 2:00pm
On Saturday afternoon in Port Hope, it will be an exciting atmosphere as undefeated CFC#2NP ranked Trinity College Bears will host 3-1 CFC#3NP  St. Andrew's College Saints.
While this may be the first time this season both these squads have squared off against each other, make no mistake about this, it is a classic rivalry.
The Saints are hoping to avenge a 43-36 loss that they suffered at the hands of the Bears. Their main weapon in their arsenal is rookie running back Adre Simmonds, who has been unstoppable thus far this season.  In last week's win over St Michael's College Kerry Blues, he tallied four majors and rushed for over 250 yards.  Look for him and pivot Ben Schmidt to connect throughout this contest.
Equally, the Saints offensive line has been tough to crack throughout the entire season.  Gregor MacKellar, Lucas Ferreira, George Hutchings, Douglas Chen-Young and Cayne Lander will again create a mounting force at the line of scrimmage.
Defensively, linebackers Walter Karabin and Nick Grossi will guide the unit.
As for the Bears, Ontario Prospect Challenge (OPC) participants Chris Sabat, Pat Marsden, Kavantye Bailey, Sevion DaCosta and James Holtn will be ones to watch for.
In this battle of two giants, the one who wins this will be the leading contender for the Conference of Independent Schools Athletic Assocation (CISAA) Championship in 2015. This game is not one to miss at all.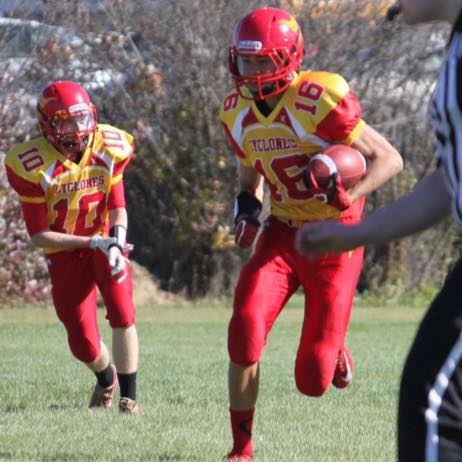 4) SASKATCHEWAN:
Central Cyclones vs Yorkton Raiders
Saturday October 24th
Not only is it playoff time in Regina, but its in full force in Moose Jaw.  While both the Central Cyclones and Yorkton Raiders are not #CFC50 ranked teams, the rivalry between these two teams is enough for this semi-final game in the Moose Jaw High School Football League (MJHSFL) to rank amongst the "must see" games nationally.
Last month was the last time these two squads saw each other and the Cyclones pulled away with a 43-36 win over the Raiders.
Despite the loss, the Raiders know its the postseason and it all comes down to one game.  The team will be seeking redemption.
However, the Raiders need to find an answer for the Cyclones powerful offence.  The Cyclones have many viable options for pivot Ryan Reidy to go to in Aidan Coleman, Aidan Baillie, Zach Hagerman and Jordan Branning.  In that previous game against the Raiders, Hagerman was invincible as the rushed for 321 yards.
The Cyclones will have to stop pivot Nick Payne.  They had their hands full with him last time around as he amassed 468 passing yards and three passing touchdowns.  Also, the Cyclones are expected to count on receivers Matthew Mandziuk and Jonathan Nagy for their offensive output.
On Saturday, both teams will provide an offensive display that many will be in awe of in Moose Jaw.
3) BRITISH COLUMBIA:
St Thomas More Knights @ CFC#8 Terry Fox Ravens
Friday October 23rd, 7:30pm, Percy Perry Stadium
Photo Credit: Kim Stallknecht, PNG
Coming off a win last weekend, the St. Thomas More Knights (3-0-1) will visit the CFC#8 Terry Fox Ravens (3-0) in this week's Game of the Week taking place at Percy Perry Stadium.
After handing the Kelowna Owls their first loss of the season by a score of 27-13, the undefeated Ravens are looking to continue their winning streak this week against a very tough Knights team. In last week's win, Taylor Poitras and Jeremie Kankolongo led the ground attack with both players rushing for over 100 yards. Poitras led the way with 18 carries for 169 yards and two touchdowns, while Kankolongo carried for 114 yards two scores. These two players are sure to make a splash again in this contest. In addition, the Ravens' defence was able to effectively contain Kelowna's dual-threat quarterback Parker Simson to only 62 yards rushing on 12 carries showing that they won't be intimidated by anybody.
The Knights, who defeated the Lord Tweedsmuir Panthers by a score of 29-7 last week, had strong performances by Luca Bellini and Lucas Dalla-Vecchia. Dalla-Vecchia finished the day with 21 carries for 101 yards and a score and also caught a touchdown pass, while Bellini rushed for a touchdown and recorded a safety and seven tackles on defence. Other standouts for the Knights included Nico Cesarei (five tackles and three sacks), Matt Smigel (seven tackles), and Ben Steele (six tackles).
In a battle of winning teams that have yet to taste defeat, will the Knights prevail? Or will the Ravens soar on home turf? Tune in this Friday to find out!
Source: BC High School Football
2) ONTARIO:
CFC#23 Holy Names Knights @ CFC#29 Cardinal Carter Cougars
Thursday October 22nd, 3:00pm
Windsor will be the site of one the most highly anticipated games of the high school season.
In a key Newman/Wilson West Division matchup in the Windsor County Secondary School Athletic Association (WCSSAA) on Thursday afternoon, CFC#29 Cardinal Carter Cougars will host CFC#23 Holy Names Knights.  Both squads are undefeated so far this season.
For the Cougars, Chris Tannous and Daniel Metcalfe will provide a one-two punch on offence.
On the opposite sde, 2014 WECSSAA Defensive MVP Zach Herzog will guide the Knights in finding a way to stop the Cougars offence.  Moreover, running back/defensive back Adem Ireyomi, two-way lineman Nic Tesolin and defensive back/wide receiver Inho Choi are other players expected to contribute to the Knights game execution plan.
This could also be a preview of the postseason and what to expect.  With a lot at stake expect these teams to come out swinging.
ONTARIO:
CFC#19 St Thomas More Knights @ CFC#18 Cardinal Newman Cardinals
Friday October 23rd, 7:00pm
The "must see" game of the week is a heated #CFC50 battle between two rival squads in the Hamilton Wentworth Catholic Athletic Association (HWCAA).
For players who were part of the 2014 squads on both teams, they remember the close, tight battle that ensued in the HWCAA Championship final.  The Knights shocked the Cardinals and handed them their first loss of the seaosn 20-17 to take the championship.
The Cardinals want to even the score this time around.  #CFC100 defensive lineman Mitchell Thiele is the marquee player on the squad and his 6'3, 290 pound frame will be tough for the Knights offence to overlook. He will be complimented by Brandon Eddie, Matt Mackinnon and Austin Viola.
On offence, senior receiver Clark Adams and running back Nicholas Petermann can make plays happen, especially in pressure filled situations.
As for the Knights, Michael Chris-Ike is the bonafide standout on offence and the Cardinals will have to stop him if they want to win this game,  Whenever, the running back gets the ball into his hands, it becomes very tough for any defence to stop him from getting points on the board, as evidenced so far this season.
Pivot Zachary Odoardi and Mitchell Philipps will dictate the success of the Knights offence.  On special teams, kicker Kevin Mutuga and kick return specialist Savaughn Magnaye-Jones could seal the deal for the Knights if this one becomes and remains a tight affair.
Without a doubt, Hamilton will be the one city everyone will want to be in Canada come Friday night to see the top ranked high school game of the week.
Advocating for football prospects one story at a time.