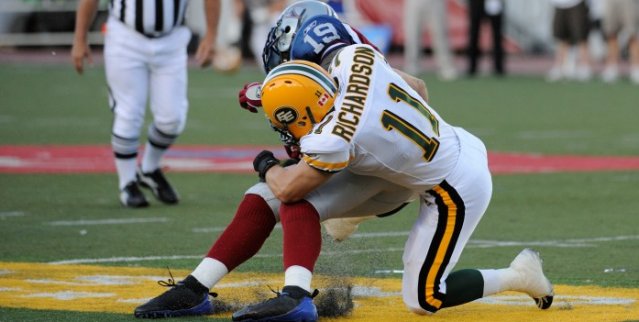 Photo Credit: cfl.ca
by CFC Scout
Canadafootballchat.com is pleased to welcome Elliott Richardson on staff, who'll be producing articles that educate high school prospects across the nation about proper strength and conditioning techniques. Richardson has spent the last seven years as the Strength & Conditioning Coach at Acadia, but also brings a wealth of knowledge from his own experiences on the football field.
He spent his high school career playing at Richview in Toronto, and then took his talents out east to play at Acadia for university. While with the Axemen, Richardson won AUS Rookie of the Year in 2005, was named an AUS All-Star three times, and was named 2nd Team All-Canadian in 2007. After going undrafted, Richardson turned his pro dreams into a reality when he signed with the Edmonton Eskimos in 2009, and actually became the first rookie that season to earn a starting job on the team. He finished his career two years later with the Saskatchewan Roughriders, and over the course of 28 games recorded 44 tackles, 2 interceptions and 1 forced fumble.
In between his stint in the CFL, Richardson took the time to finish his Kinesiology degree at Acadia, and decided to head back to Nova Scotia once he hung up his cleats for good. At first he was trying to keep in shape just in case he received another call, but his love for strength and conditioning ultimately took centre stage. After earning the trust of the players and coaches on campus, Richardson was hired as the full-time Strength and Conditioning Coach for all varsity teams at Acadia in 2012.
Richardson says he's excited about the opportunity to reach out to players and coaches across the country at canadafootballchat.com,
"Nowadays it's all about the grind when you look at social media, but I would rather focus on working smarter than harder. There's a lot of little things that players can do to streamline their training so they can become a better football player overall. I wasn't the strongest or fastest player, but I was able to train smarter with the proper workout schedule and positional training."
Stay tuned for future articles focused on strength and conditioning with Elliott Richardson.
Advocating for football prospects one story at a time.
Tags:
#PROSPECT
,
Acadia
,
American
,
Analysis
,
Canadian
,
CFC100
,
CFC150
,
CFC27
,
CFC50
,
CFC60
,
CFL
,
Conditioning
,
Edmonton Eskimos
,
Elliott Richardson
,
football
,
High School
,
NCAA
,
NFL
,
profile
,
Recruiting
,
reports
,
scouting
,
Strength
,
U Sports