Campus Notre-Dame-de-Foy RB #29 Gloire Muganda and offence (Photo credit: François Pepin)
Garneau beats Vanier in OT? The Titans devoured by the Cougars.

Champlain Cougars (Photo credit: Violettepixel)
#1 Champlain-Lennoxville College Cougars (CLC) 7-1 – A convincing win of 47-21 and the defending champs remain on top.

Campus Notre-Dame-de-Foy DB #22 Maxym Lavallée (Photo credit: François Pepin)
#2 Campus Notre-Dame-de-Foy Le Notre-Dame (CNDF) 7-1 – Notre-Dame's offence delivered a pounding on the ground to bring the Phénix down. With a 19-3 lead at the half, the Campus Notre-Dame-de-Foy offence kept producing and managed a 36-26 win to keep their number 2 position.

André-Grasset QB #1 Pierre-Olivier Potvin (Photo credit: François Pepin)
#3 Collège André-Grasset Phénix (CAG) 6-2 – The Phénix's offence struggled early and was not able to catch up the 10 point deficit. With Vanier losing, they remain in third place and will need to regroup for next Saturday to maintain this spot.

Vanier's leading tackler LB #21 Darren Kyeremeh (Photo credit: Gino Brochu www.broch.ca)
#4 Vanier College Cheetahs (VC) 5-3 – The Cheetahs losing to Garneau, 29-23 in OT, digs the end of season slump, a little deeper. With this lost, they become vulnerable and they will fight against Vieux-Montréal and Saint-Jean for fourth place in their final regular season game next week.

Saint-Jean-sur-Richelieu RB #6 Étienne Doyon (Photo credit: François Pepin)
#5 Cégep de Saint-Jean-sur-Richelieu Géants (CSJR) 4-4 – Back to their high scoring mode, a 42-28 win brings them closer to the fourth position, which they would really appreciate for the first round of the playoffs.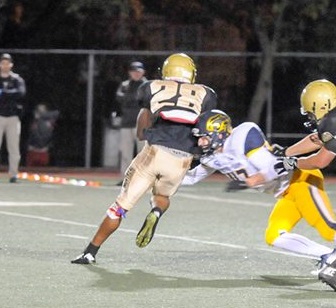 Vieux-Montréal RB #28 Jean Clifford Dazouloute (Photo credit: François Pepin)
#6 Cégep du Vieux-Montréal Spartiates (CVM) 4-4 – Tied for fifth place, their 34-7 win against the Faucons gives the Spartiates a real shot at the number 4 spot.

Garneau LB #2 Frédéric Pongo (Photo credit: Sonia Pérusse)
#7 Cégep Garneau Élans (CG) 3-5 – Playoff hopes are still alive, thanks to the three teams tied in fifth place losing, but the pressure is even greater with two must wins. The offence did score 40 points, which is reassuring, but the defence failed to stop the Faucons and their faith is in play again next week.

Limoilou QB #2 Olivier Bamrounsavath (Photo credit: André Provencher)
#8 Cégep de Limoilou Titans (CL) 3-5 – The Titans defence was unable to stop the Cougars air attack. Limoilou drops to eight with a loss this weekend and  adds a lot of pressure to win next week's last regular season game. A win next week against Saint-Jean could propel them to number five.

Lévis-Lauzon Offensive Line (Photo credit: André Provencher)
#9 Cégep Lévis-Lauzon Faucons (CLL) 1-7 – Tough loss to Vieux-Montréal and they are definitely out of the playoff race. The offence could not generate any momentum and the defence faced a tough running attack which they had difficulties stopping.

Montmorency Offensive Line (Photo credit: Gino Brochu www.broch.ca)
#10 Collège Montmorency Nomades (CML) 0-8 – The Nomades are facing a winless season with this loss and their last opportunity is against the deflated Faucons next week.
About Canadafootballchat.com
Canadafootballchat.com (CFC) is the number one national amateur football website (source: ComScore.com) and most respected source for high school and recruiting news in Canada.  CFCs mission is to promote players, coaches, administrators, teams, & leagues from coast to coast. Powered by 40+ local reporters, CFCs content driven network covers Canadian NCAA & CIS recruiting, and high school players & teams like no one else.
About CFC Insider
The 'CFC Insider' section is for the fan, player, coach, parent, looking for MORE. The mission of this exclusive membership section is to give more recruiting news, exclusive rankings and multi-series stories as well as coach-player instructional videos. To become a CFC INSIDER member, CLICK HERE!
Advocating for football prospects one story at a time.