Collège André-Grasset defence (Photo credit: Sonia Pérusse)
Limoilou beats Saint-Jean and earns a playoff birth. Vieux-Montréal prevails in the 514 rivalry and takes the number 4 spot!

Campus Notre-Dame-de-Foy RB #29 Gloire Muganda (Photo credit: François Pepin)
Cégep Garneau Élans (3-6) vs Campus Notre-Dame-de-Foy (8-1) The Notre-Dame offence dominated with young RB Gloire Muganda exploding with a fiery 204 yards rushing on 29 carries and scoring 3 touchdowns. The fire also came from QB David Pelletier, who completed 8 out of 19 for 177 yards, 2 touchdown passes and rushed for one too. Pelletier accolate, WR Vincent Forbes-Mombleau increased the flames with 7 catches for 172 yards and the only 2 aerial touchdowns. The Notre-Dame defensive front, anchored by #CFC100 DT Samuel Maranda-Bizeau, 5.5 total tackles and 1 for loss, and DE Alexandre Gagnon, with 6 total tackles, was relentless and pressured the Élans QB Thierry Doucet who could only muster 106 yards passing. With the Cougars at 7-2 with the loss against André-Grasset, Notre-Dame is declared division champs and earned the bye for the first round of the playoffs.

Collège André-Grasset WR punt returner #84 Guillaume Ranger (Photo credit: Sonia Pérusse)
Collège André-Grasset Phénix (7-2) vs Champlain-Lennoxville Cougars (7-2) The Phénix shut the Friday night lights out in Lennoxville. The number one defence, led by #CFC100 DE Philippe Lemieux-Cardinal and now sack leader with 9, LB Yacine Audette who is also second in total tackles, came up big and shut down the Cougars offence, intercepting 4 passes and cumulating 3 sacks. The Cougars young QB's had a rough night and the running game, anchored by #CFC100 OT Patrick Davis, did cumulate 171 yards, but could not punch it in. The Champlain defence also had their hands full trying to contain RB Tristan Toussaint, RB Samuel Makwanda's replacement, who carried the ball across the goal line twice and rushed for 87 yards. The André-Grasset QB, Pierre-Olivier Potvin, managed to complete 8 out of 19 for 97 yards and a touchdown. Turnovers hurt, but punt returns for touchdowns will deflate any team and Grasset's WR Guillaume Ranger, returned 2 for majors to conclude with a 34-4 final score and earning the number 2 spot.

Cégep Lévis-Lauzon RB #26 Joanik Masse (Photo credit: Érick Labbé)
Collège Montmorency Nomades (0-9) vs Cégep Lévis-Lauzon Faucons (2-7) To win late in the fall in Québec, you need a running game, and Montmorency could not generate more than 47 yards on the ground. The Faucons defence added pressure with 3 sacks and limited QB Benjamin Pelletier to 89 yards including a pick. Lévis-Lauzon, on the other hand, powered by #CFC100 OT Philippe Robitaille, bulldozed their way to a total of 401 yards. The heavy dose, 303 yards and 4 touchdowns, of RB Joanik Masse concluded in a 35-0 victory.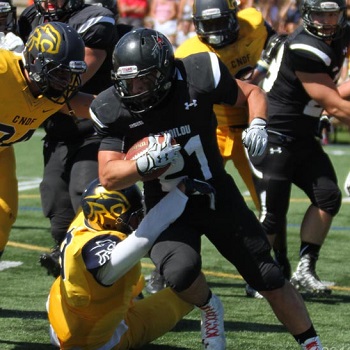 Limoilou RB #21 Gabriel Brault (Photo credit: Gino Brochu)
Cégep Limoilou Titans (4-5) vs Cégep Saint-Jean-sur-Richelieu Géants (4-5) On a rainy day, the offence needs to rely on the running game. That's what Limoilou did with RB Gabriel Brault's outstanding demonstration of leg power, with 348 yards on 22 carries and 5 touchdowns. But the defence needs to shut down the opponent's running game and the Titans did just that by limiting the Géants to 144 yards on the ground and they also quieted #CFC100 QB Dimitri Morand, who only gained 200 yards and 1 touchdown. Morand did not pass the 3000 passing yards mark, but he did break a few records. The young Limoilou QB, Olivier Bamronsavath, was almost perfect completing 6 out of 8 for 57 yards, rushing for 64 yards and helping his team gain a spot in the playoffs with this 44-8 victory. The Titans will travel to Lennoxville to face the Cougars next Friday night.

Cégep Vieux-Montréal Spartiates (Photo credit: Flo Harnois)
Vanier College Cheetahs (5-4) vs Cégep Vieux-Montréal Spartiates (5-4) This rivalry always brings out the best of these two teams and what a demonstration of will over matter. The  Vanier defence, led by #CFC100 LB Kean Harelimana, who piled up 9 tackles and 1 for loss, and tackling leader LB Darren Kyeremeh, who racked up 9.5 tackles and 2 for loss, had a busy night trying to keep the Vieux-Montréal TB's out of the end zone. The Spartiates running game totalled 202 yards and 3 touchdowns, which was all they needed to win, since the Cheetahs offence could not generate much on the ground, a mere 107 yards and had to rely on the pass. Well, the Spartiates secondary, arrowed by #CFC100 DB Benjamin St-Juste and #CFC100 DB Jérémie Dominique, seconded by #CFC100 LB Enock Makonzo, who registered 2 sacks and 6 total tackles, limited QB Dimitrios Sinodinos to 177 yards passing and 2 touchdowns. The black and gold defence compiled a total of 4 sacks and an interception to claim the number 4 position with the 24-17 win. Vieux-Montréal will host the Cheetahs in a rematch, next week for the quarter-final.
About Canadafootballchat.com
Canadafootballchat.com (CFC) is the number one national amateur football website (source: ComScore.com) and most respected source for high school and recruiting news in Canada.  CFCs mission is to promote players, coaches, administrators, teams, & leagues from coast to coast. Powered by 40+ local reporters, CFCs content driven network covers Canadian NCAA & CIS recruiting, and high school players & teams like no one else.
About CFC Insider
The 'CFC Insider' section is for the fan, player, coach, parent, looking for MORE. The mission of this exclusive membership section is to give more recruiting news, exclusive rankings and multi-series stories as well as coach-player instructional videos. To become a CFC INSIDER member, CLICK HERE!
Advocating for football prospects one story at a time.