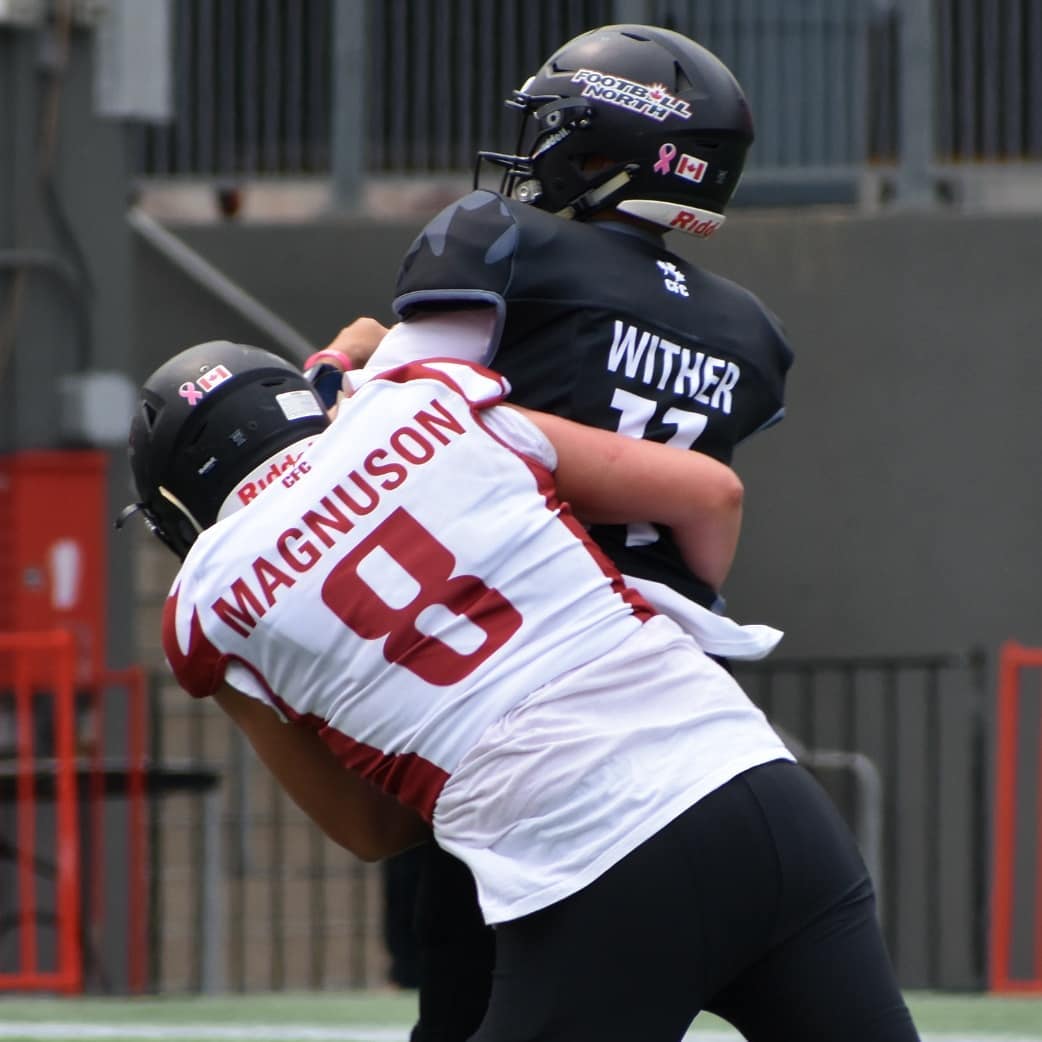 The parade of Canadian NCAA commits continues with CFC100 ATH Leif Magnuson out of CFC10 Clarkson Football North announcing his intentions to attend South Dakota. The Saskatchewan native was also fielding offers from Utah State and Idaho, but it only took a week for the Coyotes staff to convince him life at South Dakota was the right decision.
In a statement posted to social media, Magnuson expressed his thoughts on the recruiting process,
"First off I want to say thank you to my parents for supporting me through this entire process. They have been an enormous source of love and guidance. I also want to say thank you to my teammates and coaches at Clarkson Football North … To every NCAA and U Sports coach that contacted me and believed in me as a student athlete – thank you too."
"It's been a long year but definitely worth the wait to announce that I will be accepting a full scholarship offer and committing to the University of South Dakota Coyotes. The way they have treated my family and the genuine interest they showed in me as a student athlete was second to none."
Excited to announce that I am verbally committed to @SDCoyotesFB ?⚪️⚫️ as a student- athlete

Thanks to @CoachPrevost @coachTyPaopao @coachalsega @Burns_USD @CoachO_USD @CoachSchlafke @KnockJordan and HC Neilson for this opportunity #GoYotes #RedRising20 #Redlined #HippoUp pic.twitter.com/2lj27DvlaE

— Leif Magnuson (@LeifMags) June 28, 2019
Magnuson also announced he will be heading back home to play for Bethlehem in Saskatoon to finish his high school career. He's one of the most versatile athletes on the CFC100 rankings with the ability to play defensive end, offensive line, tight end and he's an elite long snapper – we're talking pro-calibre type of elite. Away from the gridiron, he's also a gifted shot putter in Saskatchewan, where he's won multiple medals on the provincial circuit.
Magnuson recently participated at the inaugural CFC Prospect Game in Ottawa, and is the first participant to announce his NCAA commitment. He was entertaining a long list of interested programs including Northwestern, Minnesota, Western Michigan, Kent State, Toledo, Washington State, Eastern Washington, Montana, Montana State, Yale, Princeton, Columbia, North Dakota, South Dakota State and North Dakota State.
The long list is no surprise when you consider his athletic genetics that come from his father, Quinn Magnuson, who played in the CFL for five seasons, his uncle Keith Magnuson, who played in the NHL from 1969-1979, and his second cousin, Steven Mazurak, who played for the Saskatchewan Roughriders from 1970-1978.
Advocating for football prospects one story at a time.
Tags:
cfc_insider
,
CFC100
,
High School
,
NCAA
,
Offer
,
Offers
,
Rankings
,
Recruiting
,
scouting
,
scouts
,
U Sports