CFC50 No. 23 Citadel Phoenix v. CFC50 No. 47 Auburn Eagles
Thursday, Oct. 26 @ 7:00pm, Mainland Commons

This Thursday, we are going to see two undefeated teams in division 1 of the Nova Scotia league go head to head. The Citadel Phoenix and the Auburn Eagles are set to see who will go on to claim the number spot in the standings.
According to head coach, Jon Dyer, for the Phoenix, they have had an "up and down" season even though their record would suggest otherwise. The team is coming off another win against CEC, 35-9, this past weekend. This game will decide first place in the standings, but it's quite possible this is game one of two between these two schools.
"I thought our guys played pretty well against CEC. They have some great athletes and we were able to eventually settle in and execute," he said. "We are very happy with how some of our kids have stepped up and filled some major roles left by a big graduating class last year."
While Coach Dyer may be hesitant about his team's performance, head coach of the Eagles, Chris Valardo, thinks his team has done very well up to this point.
"We have some very good athletes and this is really a David and Goliath story. We have 29 players, we have 7 lineman playing both OL and DL," he commented. "The talent we have is fantastic, we are just razor thin at all positions."
That being said, both teams will be working hard to prepare this week in order to be ready to face each other come Thursday.
"It's a short week, playing Sunday and then Thursday, so there's not a whole lot of time to prepare. A lot of our preparation for this game has come over the last few weeks so hopefully we can go out and execute our game plan," said Coach Dyer. "Auburn is a program that has been improving every year and they are now sitting at 7-0. They have a great coaching staff and some terrific athletes. We need to make sure our guys know their assignments but balance that with keeping them fresh on a short week."
Do your job! Isn't that the mantra of the year? According to both teams, this game is going to be won or lost in the trenches.
"Citadel is the top HS football program in Atlantic Canada, they have a top coaching staff, they 75 players and they are disciplined. If you let them control the line of scrimmage and the pace of play it will be a very long day for us," explained Coach Valardo. "The biggest keys to the game will be the team who controls the line of scrimmage."
For Auburn's offense, their quarterback, Mitchel Tufts, has been very consistent for the Eagles and will be looked upon to lead their offense as he has done all year. "I feel like we have a good shot on winning it we need the defence to get stops and we need the offence to capitalize but overall I think it's going to be a good game," said Tufts.
They also will be rely on running back by committee as you will see four different running backs get carries in the backfield. Josh Oliver is one of those running backs and said this about the game coming up.
"I'm looking forward to playing them, I really like the competition and two 7-0 teams should be a very good game. If we can stop the d-line and get the run game going and the pass game going, we have a very hard offense to stop."
Another player to keep your eye on is wide receiver Riley Felix, who has 15 touchdown receptions this season so far, will be the go-to guy through the air and has been "outstanding" this year according to Coach Valardo.
"Auburn has some great athletes in all positions but their offense begins and ends with their QB Mitchell Tufts. He can make throws in the pocket but has been really hurting teams when the pass rush breaks down and he improvises outside," said Coach Dyer of Tufts. "It puts a lot of pressure on the defense."
Citadel is going to be relying on defensive linemen, Aidan John and Tristan Reece to make sure he's accounted for.
Defensive lineman, Ryan Hudson, is the leader for the Eagles defense along with Jayden Lawrence who plays on both sides of the OL and DL and they will have the big job of shutting down the Phoenix offense who has put up 30+ points on all of their opponents save one, SJA, where they just barley pulled it off with a 10-9 win. Auburn's closest game this season was a 34-28 win over Horton, otherwise, they too, have put up 30+ points on their opponents. 
Ethan Mathieu of the Eagles said they are preparing as they normally would, watching film and going over their plays as well as making small adjustments to give them the best opportunity to beat Citadel.
"I am looking forward to playing a well coached and strong team this week. I think we have a solid team and that the Auburn, Citadel match up is going to be a great game."
Auburn will have to be focused on what they do well this week to get ready for the Phoenix. They, too, are feeling the pinch of the short week as they played on Sunday against JL Ilsley, where they won 54-0. They would not get a rest day, so we will see if that has an impact on the play during Thursday's game. 
For Coach Dyer, he said that in order to win on Thursday, they will have to win the turnover battle, establish their run game, and limit any "big, explosive plays" that the Eagles may have. "There's a lot of rain in the forecast for Thursday so that if that holds true, ball security is going to be everything."
We'll see what happens come Thursday, be here at CFC, we have heard from the Eagles almost every week about the CFC50 rankings. They made it on the list for the first time this week. We'll see just what type of team they really are against the traditional yard stick in Nova Scotia – the Citadel Phoenix. 
Kickoff is on Thursday, Oct. 26th at 7:00pm at Mainland Commons. You may some rain gear and a whole lot of cheering!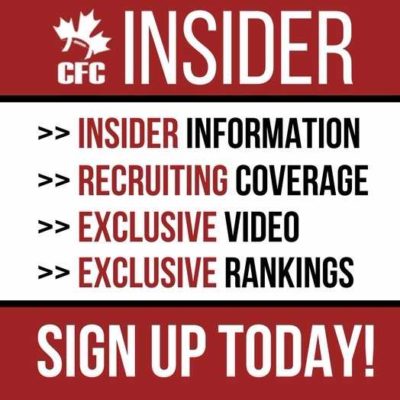 Advocating for football prospects one story at a time.