The CFC WHSFL matchup of the week is the Vincent Massey Trojans at the #41 Grant Park Pirates. In last week's action, the Trojans defeated the Steinbach Sabres, while the Pirates tied the Oak Park Raiders.
During Massey's 42-28 win over Steinbach, the Trojans defense played a big role with 3 interceptions in key situations. Vincent Massey's offense was successful running a very balanced run-pass ratio, scoring in many different ways.
Grade 11 Quarterback Quinn Adolfson played a vital role completing 6 of 7 passes through the air for 133 yards and 2 touchdown passes. Quinn also carried the football for 10 times for 110 yards and 1 touchdown to be named the Offensive Player of the Week in the Potter Division.
On defense, grade 11 defensive back Keyshawn Gaskin had a 45 yard pick-6, and shadowed the Sabres' top receiver all day.
Currently the Vincent Massey Trojans sit at 2-2. For the Trojans to be successful on Friday they'll try to establish a running game because the strength of Grant Park is their front seven.
Coach Kelsey McKay explained, "Tyson Spence is a great talent, and Aronovich, Huh, Thickfoot and the rest of that group are tough, big, and athletic."
"On the flip-side, trying to stop their very formidable, very disciplined running attack every year is a great test," said McKay. "They are well-coached in their offensive system.
And Jarett Boone is a fantastic athlete at quarterback. He's their x-factor."
The Grant Park Pirates are 3-0-1 following their game against Oak Park in which the Raiders' Ben Boyko tied the game on the last play.
Coach Dough Kovacs hopes his team takes away how tough of a league the WHSFL is to win in, and that you have to play every game, every quarter and every snap like it's your last. "Adversity brings out the best and worst in people so I guess will see if we learned anything from this game in practice this week," replied Kovacs.
In the tie against Oak Park, Cody Gushulak sparked the Pirates' offense with 161 yards and two touchdowns. The offensive line of Liam Orchard, Josh Sosiak, Eric Lempert, Tyler Stark and Valentine Lazo really made a mark as well. Marco Chagas came off the bench at guard and also played well for Grant Park.
Keys for the Grant Park Pirates to have success on Friday night are to move the ball consistently on offense and to create turnovers on defense. The Pirates will try to be prepared for Vincent Massey's Power I offense and will need to limit their power run game. "We must play with great effort and enthusiasm on senior night," concluded Kovacs.
We at CFC think that the Vincent Massey Trojans will win this game but it will be close.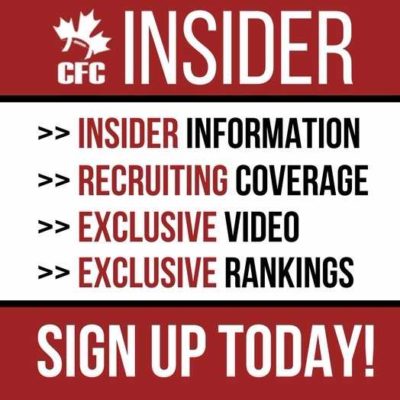 Advocating for football prospects one story at a time.