We will be previewing and recapping the #CFC50 Games of the Week. While this will be generally geared towards the #CFC50 ranked teams, we want to hear from you if there are great rivalry games or exciting matchups, regardless of tier or division, that we aren't aware of. Send us a 'heads up' by WEDNESDAY each week and we'll see what we can do: [email protected]
*Note: Some information was not available at press time. It will be added as it becomes available.
….and now let's get to it with this week's #CFC50 Games of the Week PREVIEW

(Photo Courtesy of Jason Kryk/Windsor Star)
No. 2 W. F. Herman Green Griffins (2-0) v. Kennedy (1-0)
Friday, September 30th at 5:00pm
Herman will look to maintain their position atop Ontario with a good test versus Kennedy this week. The Griffins have not allowed a single point yet this season, while finding ways to score in bunches totalling 84 points in their first two games. Kennedy will need to throw everything they have got at Herman if they hope to keep this one close.
No. 5 A. N. Myer Marauders (2-0) v. Westlane(0-1)
Thursday, September, 29th 
The main objective for Westlane heading into this game will be finding a way to stop the #CFC100 twin terrors Tre and Tyrell Ford. The brothers combined for four touchdowns in A. N. Myer's 47-13 win over Centennial last week, and will be looking to create havoc once again as the Marauders try to extend their winning streak to three.
No. 7 Huron Heights Warriors (1-0) v. King City (1-0)
Friday, September 30th at 3:30pm
After a very impressive 70-0 victory last week over Villanova College, Huron Heights climbs one spot on the #CFC50 heading into their game versus King City. Huron Heights should anticipate more of a challenge versus King City who are coming off a win of their own, but it will take a lot of manpower to put a stop to the Warriors' offensive juggernaut who posted 49 points before halftime in their week one win.
No. 10 Cardinal Newman Cardinals (3-0)
Bye week

(Photo Courtesy of the St. Roch Ravens)
No. 13 St. Roch Ravens (3-0) v. St. Marcellinus (1-0)
Friday, September 30th at 2:15pm
With senior quarterback Deandre Rose leading the way after tossing two touchdown passes in their week one win over St. Augustine, the Ravens hope they can keep on rolling as they get ready to face a confident St. Marcellinus squad. St. Marcellinus is coming off an impressive victory of their own downing Meadowvale 38-7 to start the season, but will need to find a way to keep Rose and his favourite target Joojo Paintsil in check if they have any chance of pulling off the upset.
No. 14 St. Thomas More Knights (2-1) v. Cathedral Gaels (1-1)
Friday, September 30th at 4:00pm
Coming off a massive 70-3 victory over Bishop Tonnes, the Knights look to continue their dominance as they take on the Cathedral Gaels on Friday afternoon. The biggest question heading into any game involving St. Thomas More, is how can their opponents stop #CFC100 RB Michael Chris-Ike? After lighting up the scoreboard five different times last week, there doesn't seem to be a proper answer. Add in the fact that they had four other players find the endzone as well, the Knights continue to look as scary as any team in the nation.
No. 19 Jacob Hespeler Hawks (1-0) 
*Schedule information is incomplete

(Photo Courtesy of the Nelson Lords)
No. 22 Nelson Lords (3-0) v. Oakville Trafalgar (0-1)
Friday, September 30th at 3:00pm
Quinn Pritchard will be a name to watch as Nelson looks to extend their winning streak to four when they take on the winless Oakville Trafalgar Red Devils. In the Lords' thrashing over Notre Dame last week, Pritchard cut like a hot knife through butter scoring on four separate occasions paving the way for an easy 56-0 victory. Nelson received help on both sides of the ball, however, creating havoc on defence and even scoring a touchdown off a 56 yard pick-six by Brandon Shofeld. Oakville Trafalgar must be prepared to not only stop the Lord's plan A, but also plan B, C, and D if they want to walk away with a victory.
No. 24 Catholic Central Crusaders (1-1) v.s St. Joseph's (1-0)
Wednesday, September 28th
Led by #CFC100 members DB Daniel Valente and OL Hamada Kanaan, Catholic Central took on St. Joseph's earlier in the week with both schools looking to remain undefeated. Check out next week's #CFC50 recap for scores and analysis.
No. 25 South Lions (1-1)
Bye week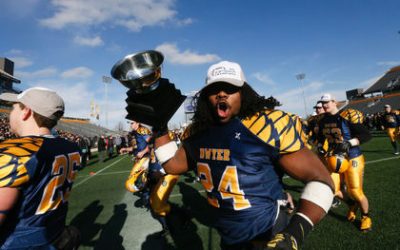 (Photo courtesy of the Stan Behal/Toronto Sun/Post Media Network)
No. 29 Paul Dwyer Saints (1-0) v. St. Stephen's (0-1)
Thursday, September 29th at 1:00pm
Last year's OFSAA Eastern Bowl champions prepare to take on St. Stephen's who are coming off a close 13-10 loss to Pickering in week one, St. Stephen's will be looking to provide a good challenge for the Saints who defeated Donald A. Wilson 21-7 in their first game of the season.
No. 31 Corpus Christi Longhorns (3-0)
Bye week
No. 32 Holy Trinity Titans (1-0) v. Pickering (1-0)
Thursday, September 29th at 2:00pm
Not to be mistaken for their doppelgangers from Oakville, the Holy Trinity Titans are hoping they can continue to make a name for themselves versus Pickering this week. The Titans are coming off a 35-0 shutout over Notre Dame, and will be tested by a Pickering defence who only allowed 10 points in their week one win over St. Stephen's.
No. 33 Denis Morris Redmen (1-0) v. Saint Michael (1-0)
Thursday, September 29th at 3:00pm
After blanking Blessed Trinity in their week one matchup 15-0, the Redmen hope they can continue to keep their opponents in check while the offence attempts to find their groove. Saint Michael comes into the game with the same type of narrative after defeating Lakeshore 16-0, making this an intriguing early season clash.
No. 34 Saint Paul Patriots (2-0) v. Lakeshore Catholic (0-1)
Thursday, September 29th at 3:00pm
This week's biggest bump in the rankings belongs to the Saint Paul Patriots as they jumped 11 spots on the #CFC50 after a convincing 42-17 win over Notre Dame. The Patriots were able to find the endzone on both offence and defence versus the Irish, and will once again lean on their strong rushing attack led by Cam Lang who ran for two touchdowns last week behind a solid offensive line. Lakeshore failed to put any points on the board in their game against St. Michael, but did manage to hold their opponents to just 16 points, which could be a building block to work off of with a tough challenge ahead against a potent Patriots squad.

(Photos courtesy of the Flamborough Review and Hamilton News)
No. 35 Westdale Warriors (1-0) v. Sir Allan MacNab (1-0)
Thursday, September 29th at 3:30pm
It will be a much tougher test this week for the Westdale Warriors as they take on a perennially strong group from Sir Allan MacNab. The Warriors shared the love last week versus Saltfleet with six different players scoring majors en route to a 53-13 demolition, and will need to continue firing on all cylinders if they want the same results going up against a MacNab defence who only allowed 7 points in their week one win over Westmount.
No. 36 Etobicoke Rams (1-0) v. Sir Wilfrid Laurier (0-0)
Thursday, September 29th at 3:00pm
With a slim 18-13 victory over Northern in week one, Etobicoke will be looking to learn this week from their character building win versus Sir Wilfrid Laurier. Justice Allin will be a player to keep an eye on after he carved up Northern for 320 all purpose yards.
No. 37 Centennial Spartans (1-0) v. Bishop Macdonell (0-1)
Thursday, September 29th at 3:00pm
Led by #CFC100 WR Tommy Nield who was on the receiving end of two touchdown passes in Centennial's 21-6 win over Our Lady of Lourdes, the Spartans hope to continue their winning ways versus Bishop Macdonell this week.
No. 39 Superior Heights Steelhawks (3-0) v. White Pines (0-3)
Thursday, September 29th at 5:00pm
After a perfect 3-0 start to 2016, Superior Heights will be looking to assert themselves once again as the more dominant team versus White Pines. These two schools have already met once this year with the Steelhawks coming away victorious 47-15, and with the previous week's results in mind, there is no indication that the second go around will be any different for White Pines.

(Photo courtesy of Christina Birch/Lorne Park Spartans)
No. 40 Lorne Park Spartans (2-2) v. St. Marguerite d'Youville (1-0)
Friday, September 30th at 12:00pm
Making their first appearance on the #CFC50 list in 2016 are the Lorne Park Spartans, who found their way into the top 50 with a 20-6 win over St. Thomas Aquinas. Playing in one of the tougher leagues in Ontario, the Spartans hope to notch another victory in their belt as they take on St. Marguerite d'Youville in a game that could define both teams moving forward.
No. 44 Holy Trinity Titans (2-0) v. T. A. Blakelock (0-1)
Friday, September 30th at 2:30pm
The second new addition to the #CFC50 are the Holy Trinity Titans from Oakville, who earned their spot on the list with back to back dominant performances to begin the year. After throwing down a 50 burger in their week one shutout over M. M. Robinson, the Titans followed up with another impressive showing walking over Oakville Trafalgar 44-13. Holy Trinity hopes they can keep on climbing in week three with another big win over T. A Blakelock.
No. 47 St. Joan of Arc Knights (1-0) v. St. Theresa's (0-1)
Tuesday, September 27th
St. Joan of Arc faced off earlier in the week against St. Theresa's looking to keep their perfect record intact. Check out next week's #CFC50 recap for scores and analysis.
No. 50 St Mary's Eagles (1-0) v. St. David (1-0)
Friday, September 30th at 3:00pm
The final new addition to the #CFC50 this week are the St. Mary's Eagles who pole vaulted themselves into the rankings with a big win over the previously ranked Resurrection Phoenix. Sami Moussa, Cory Watson, and Dieng Chuol will be the players to watch after all three managed to find the endzone in St. Mary's week one victory. St. David will be looking to spoil the party after escaping with a narrow 31-30 win over St. Benedict to open the season, which should give them a lot of confidence going into this highly anticipated matchup.
#CFCscores ON – Golden Horseshoe
#CFCscores ON – National Capital
About Canadafootballchat.com
Canadafootballchat.com (CFC) is the number one national amateur football website (source: ComScore.com) and most respected source for high school and recruiting news in Canada.  CFCs mission is to promote players, coaches, administrators, teams, & leagues from coast to coast. Powered by 40+ local reporters, CFCs content driven network covers Canadian NCAA & CIS recruiting, and high school players & teams like no one else. 
About CFC Insider
The 'CFC Insider' section is for the fan, player, coach, parent, looking for MORE. The mission of this exclusive membership section is to give more recruiting news, exclusive rankings and multi-series stories as well as coach-player instructional videos. To become a CFC INSIDER member, CLICK HERE!
Advocating for football prospects one story at a time.