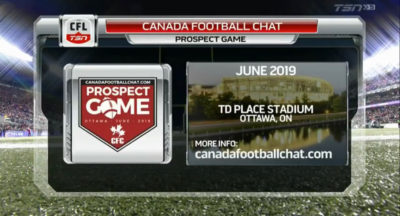 Did you miss the big announcement live on TSN? … We're taking amateur football to the national stage! Head over to our new independent site to learn more about the Canadafootballchat.com Prospect Game broadcast by TSN – We look forward to meeting the brightest talent from around the country on our road to TD Place Stadium.
Follow on twitter @CFCProspectGame
CFC High School Players of the Week (9)
Canadafootballchat.com (CFC) will be recognizing the top Canadian born Varsity high school players of the week. If you have a player who you think we should recognize each week for their performance, please email us their full stat line each week by Tuesday at 5pm EST to the CFC Scouting Bureau.
Offensive Player
Name: Cairo Berry
Position: RB
School Team: Dartmouth High, NS
Year: 2019
W 65-20 v. Halifax West
12 carries for 235 yds / 4 rushing TDs / 3 catches for 73 yds / 1 TD reception / (328 YFS 5TDs)
Defensive Player
Name: CFC100 Kody Gutek
Position: DB/ATH
School Team: Martensville, SK
Year: 2020
W 47-26 v. Esterhazy
10 tackles / 3 TFLs / 1 INT for a TD / 2 FF / 1 FR / 1 PBU
Lineman
Name: Daniel Auld
Position: OLB/DE
School Team: CFC50 St. Thomas More, BC
Year: 2019
W 51-14 v. Kelowna
Auld was part of another STM defensive performance as he registered 6 tackles, 5 sacks, and 5 TFLs.
Athlete
Name: Will Clarke
Position: ATH
School Team: CFC50 Notre Dame, BC
Year: 2019
L 50-52 (OT) v. CFC50 South Delta
19 carries for 190 yds / 5 rushing TDs / 12/17 for 166 yds passing / 2 passing TDs / 6 tackles / 1 FF
Honorable Mentions
CFC100 Carson Sombach (Miller, SK) – 

4.5 tackles / 6 KD / 19 carries for 169 yds / 1 rushing TD

CFC100 Jhavoun Blake (Rutland, BC) – 

192 yds passing / 3 passing TDs / 141 yds rushing / 2 rushing TDs

CFC100 Ben McDonald (CFC50 South Delta, BC) – 

30/40 for 326 yds / 4 passing TDs / 1 carry for 16 yds

CFC100 Vishaan Narayan (New Westminster, BC) – 

2 tackles / 3 ast / 2 sacks / 2 TFLs

Braden Reed (Prince George, BC) – 

20 carries for 226 yds / 3 rushing TDs / 9 tackles / 1 FF / 1 INT

Liam Cumarasamy (CFC50 Terry Fox, BC) – 

8 carries for 127 yds / 4 rushing TDs

Zach Taylor (John Barsby, BC) – 

13 tackles / 1 sack

Logan McDonald (Robert Bateman, BC) – 

11/14 for 122 yds passing / 4 passing TDs / 1 TD reception

CFC100 Leif Magnuson (Clarkson Football North, ON) – 

5 tackles / 2 TFLs

CFC100 Jevaun Jacobsen (Clearwater Academy (Fl.), BC) – 

6 tackles / 2 sacks / 2 TFLs / 1 FF / 2 PB
CEGEP
Criteria
This will be based off player's individual and/or team performance using verified stats. The awards will include:
Offensive Player of the Week
Defensive Player of the Week
Lineman of the Week
Athlete of the Week
The offensive and defensive players will be judged on their individuals stats while the linemen will be selected via a) stats for the defensive linemen and b) overall offensive team performance and number of total yards gained for offensive linemen. (We will include Special Teams players in honourable mentions should they gain our attention.)
Candidates must be attending and enrolled in an accredited CFC50 eligible Canadian high school program. This will NOT include community players, Cégep players, or players who attend prep schools. Those performances may be mentioned in the honourable mentions if applicable.
For all your recruiting and player news, we've got you covered with the most in-depth analysis and insider information you'll find in Canada.
As a CFC INSIDER member, you will have access to:
Become a CFC Insider MEMBER today!
[button link="https://canadafootballchat.com/cfc-memberships/" icon="check" bg_color="#ac2a29″]SUBSCRIBE NOW[/button]
Advocating for football prospects one story at a time.