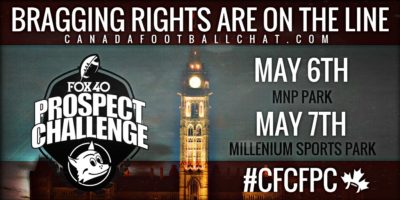 To say the Fox 40 Prospect Challenge (#CFCFPC) is growing is an understatement. This year, we will see two additional provinces participating in the largest Canadian football tournament ever. Both British Columbia and Quebec are sending teams to compete in this years CFCFPC. In addition, we saw an international minor team play in Hamilton this past weekend from Cleveland, Ohio.
On Sunday, May 7th at 10:35AM at the Millennium Sports Park, the Grade 8 Team Central will play against Team Halton-Peel. Head Coach Raad believes that this expansion is a huge step in the right direction.
"I personally believe this is great for youth football in Canada and hope to one day soon see at least one team per province play in a week long tournament similar to what Pop Warner does in the US," he says.
While Coach Raad says that they had a bit of a slow start with putting their team together, he is confident in their running game and their defensive line.
"I only took the team over in December and we now have a solid team," he explained. "It is going to be wet this weekend and so I expect the running game to dominate and our defensive line to dominate the run."
The team's focus during the earlier weeks of practice revolved around the offense and making sure that timing and execution was good. Overall, though, the main goal of the coaching staff was for the players to have a terrific experience and "bond together" as a team.
Specifically on offense, Coach Raad expects to run the ball. His quarterback, a grade 7 player, Christopher Johnstone, will be starting and will have the reins in his hands. "He is a tall and mobile QB who will only get better over time," describes Coach Raad of his quarterback.
Other offensive players to watch are running backs Jahmoni Dennie and Jayden Banks, who Coach says run hard and are extremely physical on the field. Look for receivers Jourdan Kastelic and Darius Raad to catch the ball from the air.
On defense, he expects to dominate at the line of scrimmage. Look for the aggressive play of defensive ends, Abdul Abdelaziz and Robbie Keyes-Wilson, who will be anchoring the line. In the secondary, Owen Franco, Ryan Barnes, Adrian Asani, and Blake Williams are all players to watch and will be depended upon to make big plays.
After three years of coaching at the CFCFPC (OPC), Coach Raad is looking forward to this year, just as he had in previous years, but he is also looking forward to moving up with this team as they move along.
"This is my 3rd year coaching FPC(OPC) and I look to continue to move along with this group of gifted athletes," he says. "I expect the players to enjoy the experience and learn from playing against a team of players they will not normally see during their club or high school seasons."
He adds, "Going forward I expect this age group to be better recruited next year and hope to face BC or another team from outside our province."
Kickoff is at 10:35AM at the Millennium Sports Park. It should be a great game.
Advocating for football prospects one story at a time.