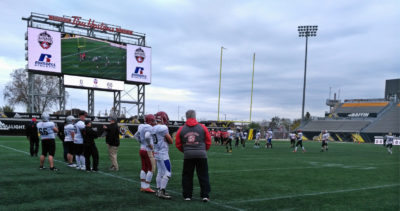 Things got a little out of hand at Tim Hortons Field when the Freshman West took on the East, with the final outcome turning into a 74-0 blowout in favour of the West.
The flurry of points came early and often with the Game's Overall MVP Jacob Succar scoring on a 27 yard run to open the scoring just three minutes into the game. A minute later after an interception by Maximus Di Diomede, it was Hudson Laur's turn to get a feel for the end zone on an easy three yard jaunt that increased their lead to 14-0.
Succar decided he wouldn't be outdone, so three minutes after Laur found paydirt, he ripped away from defenders for another 35 yard touchdown that would become a familiar theme throughout the day.
The West eventually went on to rack up 460 yards of total offence, with 189 of those yards coming through the air thanks to the Offensive MVP John Serrano. He delivered on seven passes that spanned an average of 27 yards per completion, and also scored on a one yard dive into end zone that gave his team a cozy 27-0 cushion before halftime.
Once again, however, we return to the theme of the day which was Succar finding ways to beat defenders in every possible way, including a 19 yard run just a minute before the break to add insult to what was already a rough half for the East.
He wasn't done just yet though, and with the second half not even two minutes in, he juked and jived his way through the defence for an astounding fourth touchdown on the day, which at that point increased the West's lead to 41-0. Feeling satisfied with his four touchdown performance with a little over 30 minutes of the actual game played, Succar took the rest of the afternoon off and enjoyed watching his teammates score a few more touchdowns as their lead continued to grow at an abnormal rate.
Laur would add his second major of the game midway through the third quarter on 31 yard run, then Zachary Bechard finished off the frame with a one yard touchdown of his own. Serrano then took over scoring responsibilities with some help from his receivers, first connecting with Drake Davis on an 80 yard catch and run that saw him split two defenders, followed by a 46 yard hookup with Mason MacDonald that pushed the boundaries of 70 points.
It was Serrano's first year attending the CFCFPC, which made receiving the Offensive MVP honours a special moment for the young quarterback,
"I feel great, it's an honour. It's my first ever year doing this and it's just great being out here with all these guys and playing to the best of my ability." he said with a smile. "I believe that it was sportsmanship, working together to achieve a goal."
The game's Defensive MVP would be the one to help push them over the limit as Adam Dekraker stepped in front of a pass that had six points written all over it, which was a symbolic way to end the dominant victory.
What it wasn't symbolic of was the heart that every player from the East side displayed as the score began to get out of hand, and the stat sheet is proof of that determination. Carter Stephen found the most success finishing with 100 yards on just five completions, and was forced to scramble for 74 yards on seven carries. Parker Lynds made a splash pulling double duty running for 27 yards on four touches, and also hauled in a pair of passes for 20 yards, while Tristan Redmond was another noteworthy receiver who caught two passes for 49 yards.
Advocating for football prospects one story at a time.