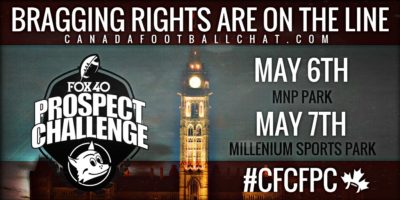 To say the Fox 40 Prospect Challenge (#CFCFPC) is growing is an understatement. This year, we will see two additional provinces participating in the largest Canadian football tournament ever. Both British Columbia and Quebec are sending teams to compete in this year's CFCFPC. In addition, we saw an international minor team play in Hamilton this past weekend from Cleveland, Ohio.
That being said, on Saturday, May 6th at 1:00pm, the sophomore Ontario Team East all-stars will play against the sophomore QBFL all-stars at MNP Park (Carleton). We had a chance to catch up with some of the players from the QBFL team to get their thoughts on the upcoming match.
Ricardy Bony currently plays for the St-Leonard Cougars and is a 5'9, 280-pound defensive lineman."I think it's the best opportunity for me and my team to see what we can do against a team like that and I think I will give a big performance," says Bony when we asked what he thought about the upcoming match against the Team East all-stars.
Fellow teammate from the Cougars is 5'8, 147-pound receiver, Wedens Alexandre, also believes that this weekend will bring more exposure to the players from Quebec.
"To play against Ontario is something big because it is a opportunity for us to be watched," he explains. "For sure, I will give my best and do what I have to do like everyone else."
Coming from the North Shore Lions program, running back, Sunny Letourneau, says that it will be a great experience for him and his team. The 6'1, 195-pound back is excited to play against other high caliber players.
"It should be a fun challenge and I look forward to it," he says. "I think I will perform very well, our team has been training and is ready to play."
Lastly, Greenfield Park Packers defensive lineman, Reese Seguin, standing at 6'0 and 151-pounds doesn't think that his team will have any trouble in the match up against the Ontario all-star team.
"As long as my team and I work as a unit and keep our head in the game, we should be able to keep up and/or even win the game," he says.
"I think that playing against an other all-star team is going to be great. It's definitely going to be a tough game, but I'm honored to be able to take part in a match up where both teams bring their top, elite players to the field," he explained. "But I will definitely be giving it my all out on the field so I think I will rise to the occasion."
The team will be lead by head coach and offensive coordinator, Stephane Nadon.
Kickoff is at Saturday, May 6th at 1:00pm at MNP Park (Carleton).
CLICK HERE FOR MORE INFORMATION
Advocating for football prospects one story at a time.