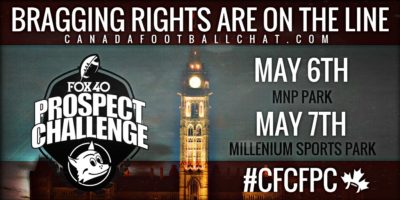 To say the Fox 40 Prospect Challenge (#CFCFPC) is growing is an understatement. This year, we will see two additional provinces participating in the largest Canadian football tournament ever. Both British Columbia and Quebec are sending teams to compete in this year's CFCFPC. In addition, we saw an international minor team play in Hamilton this past weekend from Cleveland, Ohio.
That being said, on Saturday, May 76th at 4:00pm, the Ontario Team East all-stars will play against the QMFL all-stars at MNP Park (Carleton). We had a chance to catch up with some of the players from the QMFL team to get their thoughts on the upcoming match.
Advocating for football prospects one story at a time.