Under Friday Night Lights, the most highly anticipated and hyped up national high school game of the 2015 season will take centre stage in Calgary.
The top two teams in the #CFC50 will battle for supremacy in Calgary Senior High School Athletic Association (CSHSAA) Division 1 action.
For both CFC#1 Notre Dame Pride and CFC#2 St. Francis Browns come into this matchup with perfect records.
It has been a roller coaster season for the Pride, who lost #CFC100 running back Avery McCuaig early into the season.  Despite having to make adjustments to their offence, the Pride haven't lost a step so far as the team has dominated in their ground game, headlined by the standout performance of #CFC100 offensive threat Ted Kubongo.
Overall, the Pride's fast paced offence led by pivot David Thairu has been difficult for opposing defences to contain thus far in the 2015 season.
As for their defence, the one to watch in this game is #CFC100 top ten ranked and recent NCAA Division 1 commit (Oklahoma Cowboys) Amen Ogbongbemiga.  If the Browns are to have any success on Friday night, their offensive line will have to find a way to stop him.
On the other end, the Browns have been dubbed by Centennial Coyotes Head Coach Garth Melrose as "one of the best Francis teams the school has seen since the Marco Ianuzzi era."
The undisputable leader is #CFC100 ranked pivot Des Catellier.  He will have a couple of viable options on defence to create some magic on Friday night – teammates as well as products of the Calgary Cowboys organization Jacob Izquierdo and Alex Groshak.
However Catellier is a double threat as he is arguably the best special teams player in the province as both a punter and place kicker.
"The difference maker will likely be the amazing kicking by Des Catellier," assessed Melrose of what could dictate the outcome of the game.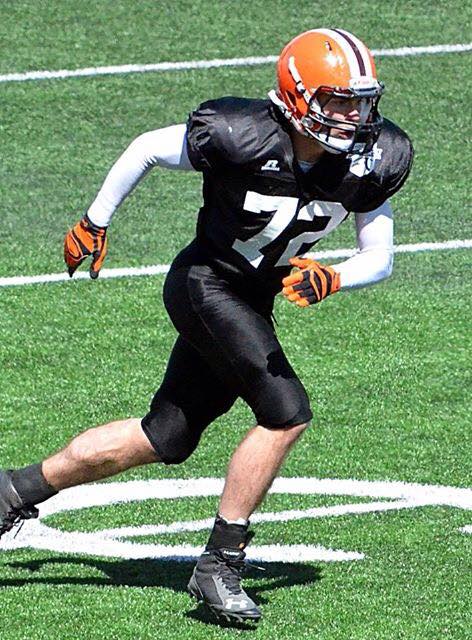 If the Pride is to keep their 37 consecutive game winning streak intact, they will have to get past a very stingy Browns defence.  So far this fall season, the Browns have not allowed opposing offences to score a point against them.
A trio of linebackers who played together as well on the Cowboys will anchor the Browns defence – Joe Dutton, Austin Daisy and Noah McDonough.
Ultimately, Melrose says it be a tight, close contest on Friday night.
"I believe this game will be a low scoring defensive battle," offered the Coyotes Head Coach who predicted the Browns would win this game 24-10 over the Pride.
(twitter: http://twitter.com/vohra_ameeta)
Advocating for football prospects one story at a time.