Grimsby receiver joins OUA team's 2016 class.
Jack Gelbart is thrilled that he is going to one of his top CIS choices.
Recently, the 6'3, 212 pound wide receiver from Grimsby, Ontario has committed to Guelph Gryphons. Gelbart will join the team for the 2016 OUA season.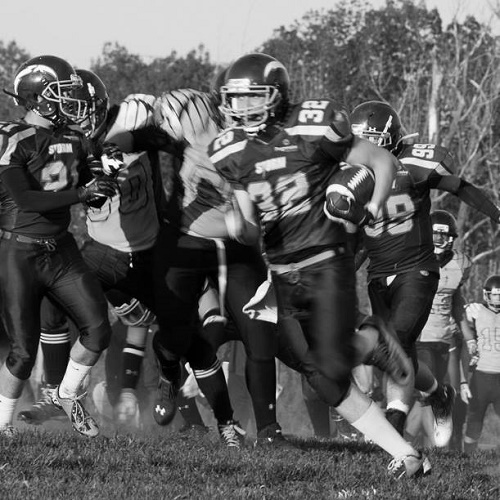 The offensive standout began his gridiron career in the Niagara House League in 2007.  Since then, Gelbart has suited up for Niagara Storm of the Ontario Football Conference (OFC), Niagara Spears of the Ontario Varsity Football League (OVFL) and Blessed Trinity Thunder of the Niagara Region High School Athletic Association (NRHSAA).
This past season, the receiver racked up 442 yards, six touchdowns (longest was 70 yards) and 13 first downs.
In 2015, Gelbart participated in the Ontario Prospect Challenge (OPC) as a member of Team West's Varsity squad.
After his commitment, the receiver issued the following statement to CanadaFootballChat.com:
"Guelph has always been a top 3 choice of mine; I went to the high school football camp at Guelph last year and I felt so comfortable there"
"Guelph's campus is small and that's why I like it so much. Everyone's very close and I feel more at home, plus they have some of the best university food in Canada"
"After university I want to pursue a career in physiotherapy and athletic therapy so at Guelph I would like to take human kinetics, this helped make my decision because it's one thing they emphasize when committing to a university, you can only play football for so long, what happens after? What happens if you can't play football anymore?"
"Obviously football is a big factor and considering Guelph won the Yates cup last year I knew they have a good program."
(twitter: http://twitter.com/vohra_ameeta)
Advocating for football prospects one story at a time.