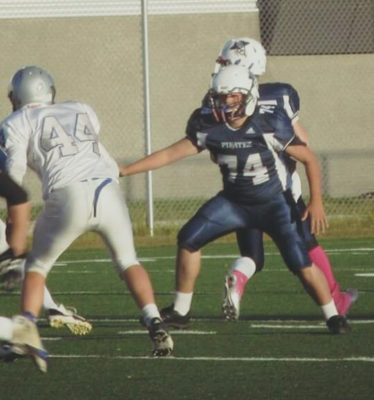 Hayden Summerton has made his way around the football field for the three years he's suited up for the Grant Park Pirates of the Winnipeg High School Football League. Hayden's starting position is offensive line, but he also enjoyed the defensive side because he gets to hit, Hayden mentioned, "I love the feeling of walking onto the field and having the mind set of beating the guy in front of me."
Grant Park's standout has modeled his style of player after Michael Oher of the NFL's Carolina Panthers. "Seeing what he had to go through and I thought that he can't go through all that," replied Hayden. "He's just one of the strongest men out there and I wish I could shake his hand for his inspiration."
Hayden hasn't had much in terms of recruitment at the moment. Currently Hayden's plans are to change high schools to become a pipe fitter next year at Rb Russel. Hayden added, "I haven't been recruited by anyone and didn't think I could make it honestly, not much recognition for the offensive line."
Although it may seem Hayden has chosen a different path from football, he commented, "I would love to play for really any team."
Hayden's dream is to attend the same college as Michael Oher did in the U.S, Ole Miss.
If he was to get to the next level, Hayden thinks he could do well. "I'll give it everything I got at every practice and an hour later," explained Hayden. "Fourth quarter is when people get tired. My old coach made sure we knew that and took advantage of that."
The most influential person to Hayden on the gridiron has been his best friend Patrick. Hayden said, "He (Patrick) made me go to my first practice and I lost him and got stuck with the o line and loved my "Hoggies"."
Football to Hayden means spending time with his brothers.
"I learned from football to always keep your feet moving, whether it's in life or on the field," said Hayden.
If he doesn't end up being recruited, Hayden will continue his plans on becoming a plumber/pipe fitter because as he concluded, "I can't wait forever for something that won't come."
(*note: Since this article was written, Hayden Summerton is no longer with the Grant Park Pirates)
Hayden Summerton
Offensive Line (Left Tackle, Guard), Defensive Line (Nose, End), Tight End
6'0, 195 lbs
Teams: Grant Park Pirates (WHSFL)
Commitment: none
Official Visits: none
Considerations: open
Class: 2018
Advocating for football prospects one story at a time.