PFC SEMI-FINAL
Running Back – #21 Logan Fischer – Saskatoon Hilltops
For the second straight season the Saskatoon Hilltops hosted and beat the Winnipeg Rifles in the PFC semi-final.  Running back Logan Fischer was outstanding with 177 all-purpose yards.  He rushed 19 times for 130 yards, scoring a pair of touchdowns and caught four passes for 47 yards.
BCFC SEMI FINAL
Receiver – #14 Kyle Kawamoto – Okanagan Sun
The Okanagan Sun offence exploded on Sunday scoring 75 points and set a new club record with 605 yards of total offence.  Receiver Kyle Kawamoto was outstanding hauling in seven passes for 198 yards and tied a record with three touchdown receptions including one of 87 yards.  This is the first award this season for Kawamoto.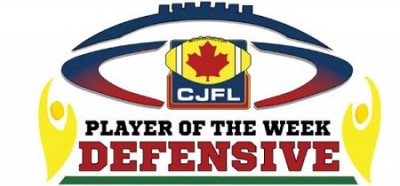 PFC SEMI-FINAL
Linebacker – #34 Alex Ogbongemiga – Calgary Colts
For the second straight season the Calgary Colts went into Regina in the semi-final and left with a victory.  The Colts defence was outstanding not allowing an offensive point to the PFC's top offence.  Linebacker Alex Ogbongemiga led his team with four tackles, 5 assists and had an interception.
BCFC SEMI-FINAL
Defensive Back – #42 Cole Virtnanen – VI Raiders
For the second time this season Cole Virtnanen is named the Defensive Player of the Week as his Raiders brought down the defending champs in the BCFC semi-final.  The BCFC Rookie of the Year made six tackles, had an assist, two special teams tackles, and an interception of 14 yards.  The Raiders are now off to the Cullen Cup.
PFC SEMI-FINAL
Kicker – #9 Brett Thorarinsson – Saskatoon Hilltops
When the Saskatoon Hilltops offence stalled on Sunday, kicker Brett Thorarinsson was there to bail them out.  His six punts averaged 42.3 yards, while his eight kick-offs sailed 454 gross yards, averaging 56.7 yards a kick.   He also got onto the score sheet connecting on all seven converts.
BCFC SEMI-FINAL
Kicker – #84 Thomas Huber – Okanagan Sun
When a team scores 75 points, the kicker is sure to be busy and Sun kicker Thomas Huber was just that.  He was 2-2 in field goals, was a perfect 10-10 in converts and kicked off 11 times averaging 49.6 yards.  This is the fourth time Huber has won this award this season.
Advocating for football prospects one story at a time.