OFFENSIVE PLAYERS OF THE WEEK:
PFC WEEK 1:
Running Back – #32 Jimmie Airey – Edmonton Huskies
What an offensive start for running back Jimmie Airey of the Edmonton Huskies.  The veteran carried the rock 24 times for 190 yards and three touchdowns.  He was dangerous outside the backfield as well catching five passes for 59 yards.  In all the PFC Offensive Player of the Week collected 249 all purpose yards.
BCFC WEEK 4:
Quarterback – #13 Ashton MacKinnon – Westshore Rebels
The Westshore Rebels won their first game of the season last weekend as quarterback Ashton MacKinnon took matters into his own hands.  The first year pivot set a new Rebels record with 29 completions on 38 attempts for 427 yards and threw three touchdown passes.  He not only dominated with his arm, but his legs as well, rushing 10 times and scored two more touchdowns.  In all MacKinnon was responsible for 30 of the 45 points the Rebels would score, naming him the BC Lions Offensive Player of the Week.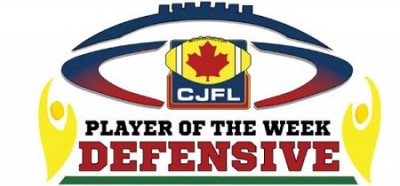 DEFENSIVE PLAYERS OF THE WEEK:
PFC WEEK 1:
Defensive Lineman – #56 Tom Schnitzler – Saskatoon Hilltops
The defending National Champion Saskatoon Hilltops picked up right where they left off a year ago … not allowing much.  They pitched a shutout in the second half in Calgary as the PFC Defensive Player of the Week Tom Schnitzler led the way with two sacks, three tackles, an assisted stop and a knockdown.
BCFC WEEK 4:
Defensive back – #42 Cole Virtanen – VI Raiders
The best game of this past weekend was the VI Raiders and Kamloops Broncos.  The Raiders defence allowed just six points in second half as they shut down a very potent Broncos offence.   Just as the Broncos offence started rolling, in stepped the BC Lions Defensive Player of the Week Cole Virtanen.  He intercepted two passes at critical times, including one in the fourth quarter that he took back 95 yards for touchdown, setting a Raiders record for longest pick six in team history.
SPECIAL TEAMS PLAYERS OF THE WEEK:
PFC WEEK 1:
Kicker – #9 Brett Thorarinsson – Saskatoon Hilltops
The Saskatoon Hilltops can score points in a number of ways, including field goals.  The PFC Special Teams Player of the Week, kicker Brett Thorarinsson was 3 of 4 in Week 1, hitting from 45 yards out.  He was perfect with two converts and averaged 44 yards on his seven punts, recording a single.  He also averaged 52 yards on his six kick-offs.
BCFC WEEK 4:
Returner – #4 John Beckerleg – Langley Rams
Explosive is a very accurate word when describing the BC Lions Special Teams Player of the Week John Beckerleg.  Each time he touches the ball he has the ability to get to the end zone.   Saturday night he returned three kicks, totalling 143 yards.  His best return was in the fourth quarter as he would field a kick-off 10 yards deep in his own end zone.  In a blink of an eye and two unbelievable moves, he raced 95 yards before a touchdown saving tackle.
Advocating for football prospects one story at a time.