OFFENSIVE PLAYERS OF THE WEEK:
PFC WEEK 3:
Quarterback – #13 Jaeden Marwick – Regina Thunder
The Regina Thunder offence continues to roll, scoring 78 points in Week 3, on the road.  Quarterback Jaeden Marwick was outstanding finishing 18 of 22 for 300 yards and five touchdowns.  He also used his legs with success, scoring another major.  In all, Marwick accounted for 36 of the 78 Thunder points.
BCFC WEEK 6:
For the second time this season Westshore Rebels quarterback Ashton MacKinnon is named the BC Lions Offensive Player of the Week after an outstanding individual effort this past weekend.  With his arm, he finished 21 of 27 for 310 yards and threw three touchdown passes.  With his legs MacKinnon rushed five times and scored a touchdown, then with his hands he caught three passes for 58 yards.  In all he tallied 382 yards and accounted for 24 of the 36 points the Rebels scored.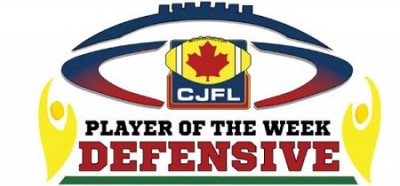 DEFENSIVE PLAYERS OF THE WEEK:
PFC WEEK 3:
Defensive lineman – #76 Akida Lewis – Calgary Colts
The Calgary Colts recorded their second win of the season allowing only 81 yards on the ground, thanks in large part to the play of the PFC's Defensive Player of the Week Akida Lewis.  The Winnipeg native collected a game high nine tackles and had a sack.
BCFC WEEK 6:
Defensive lineman – #99 James Bradley – Westshore Rebels
In Week 6 the Rebels had the difficult task of trying to contain the Kamloops Broncos high powered offensive and one player in particular was simply outstanding.  The BC Lions Defensive Player of the Week James Bradley compiled five tackles, five assisted tackles, had a sack and recovered a fumble.  It's the first award for Bradly this season.
SPECIAL TEAMS PLAYERS OF THE WEEK:
PFC WEEK 3:
Returner – #32 Bryant Sackney – Saskatoon Hilltops
The Saskatoon Hilltops continued to show why they are the defending champs scoring another 65 points in Week 3.  The tone was set early when the PFC Special Teams Player of the Week Bryant Sackney returned the opening kick-off 100 yards for a touchdown.  It's the first Hilltops return for touchdown this season.
BCFC WEEK 6:
Kicker – #19 Brennan Van Nistelrooy – Okanagan Sun
The BC Lions Specials Teams Player of the Week set a new Okanagan Sun team record in Week 6.  Brennan Van Nistelrooy blocked his fifth career kick in Langley resulting in a third quarter touchdown.  He also collected five punts for 239 yards and recorded a single.  This is the third time a Sun player has won the Special Teams Player of the Week honour.
Advocating for football prospects one story at a time.