PFC WEEK 7
Running back – #27 Michael Ritchott – Winnipeg Rifles
The Winnipeg Rifles won their second game of the season on Sunday thanks to a well balanced offensive attack.  The Offensive Player of the Week Michael Ritchott had his best game as a Rifle rushing 17 times for 175 yards and scored a touchdown.  His ability to run the ball set up the passing game, in which he caught three passes for 13 yards.   This is Richott's first PFC award
BCFC WEEK 9
Running back – #34 Jacob Palmarin & #88 Devin Csincsa
For the first time this season there are co-Offensive Players of the Week.  It was an impressive night in Kamloops this past weekend as both running back Jacob Palmarin and receiver Devin Csincsa reached the 1,000 yard plateau.  Palmarin rushed 12 times for 174 yards and a pair of touchdowns to eclipse the 1,000 yard mark, while Csincsa caught six passes for 137 yards and a major to reach 1,000 yards.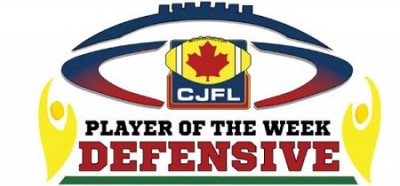 PFC WEEK 7
Defensive Back – #20 Colton Burr – Calgary Colts
The Calgary Colts recorded their fourth win of the season, matching last year's total with two games to play.  Defensively the Colts clammed down in the second half allowing just six points.  Defensive back Colton Burr was outstanding making seven solo tackles, assisting on one and had two knockdowns leading the club with 19 defensive points.  His efforts name him the Defensive Player of the Week
BCFC WEEK 9
Defensive Back – #2 Jordan Bosse – Westshore Rebels
Despite losing in Week 9, defensive back Jordan Bosse was a standout for the Westshore Rebels.  The Victoria native intercepted two passes and collected three solo tackles and two assisted stops.  Following his efforts he is named the "BC Lions Defensive Player of the Week."
PFC WEEK 7
Returner – #20 Alex Wilander – Edmonton Wildcats
The Special Teams Player of the Week is Alex Wilander of the Edmonton Wildcats.  The Edmonton native collected 121 all-purpose yards, returning five punts for 54 yards and two kick-offs 67 yards.
BCFC WEEK 9
Kicker – #84 Thomas Huber – Okanagan Sun
For the third time this season Thomas Huber is named the "BC Lions Special Teams Player of the Week."  Saturday afternoon in Westshore the Handsworth grad collected 15 points to add to Conference lead. He connected on all three field goal attempts and was a perfect 6-6 in converts.  Huber also recorded seven kick-offs, averaging 46.5 yards.
Advocating for football prospects one story at a time.