PFC WEEK 8
Quarterback – #5 Jamie Ybarra Jr. – Winnipeg Rifles
Easily his best game since becoming a Rifle, quarterback Jamie Ybarra Jr. led this club to their most lopsided victory of the season, winning 60-8 in Edmonton.  Ybarra is named the Offensive Player of the Week after finishing 17 of 24 for 347 yards, throwing four touchdown strikes as the Rifles clinched a playoff spot.
BCFC WEEK 10
Quarterback – #4 Hunter Lake – Westshore Rebels
In his final junior football game with the Westshore Rebels Hunter Lake was outstanding against a very tough and physical Langley Rams defence.  Lake was seemingly all over the field as a quarterback, running and throwing the ball along with catching it as well.  He finished 17 of 26 for 258 yards and threw three touchdown passes.  He also ran nine times for 44 yards and caught two passes for six yards.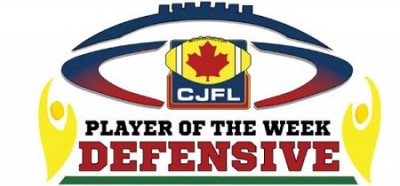 PFC WEEK 8
Defensive Back – #8 Braedy Will – Winnipeg Rifles
The Winnipeg Rifles clinched a playoff berth after a dominating defensive performance, allowing just eight points.  Defensive back Braedy Will had an outstanding game with six tackles, three special teams tackles, a knockdown and a pair of interceptions.  It's the first award for Braedy this season.
BCFC WEEK 10
Linebacker – #26 Keagan Hughes – Okanagan Sun
For the second time in three weeks Okanagan Sun linebacker Keagan Hughes is named the "BC Lions Defensive Player of the Week."  The West Kelowna native finished with five tackles, two special teams tackles, a blocked kick and a knockdown.
PFC WEEK 8
Returner – #16 Kai Madsen – Winnipeg Rifles
The Big Kahuna Special Player of the Week is Winnipeg Rifles returner Kai Madsen.  The St. Vital grad returned three punts for 128 yards including a 77 yard return for a touchdown.  He also returned a missed field goal 23 yards for 151 all-purpose yards.
BCFC WEEK 10
Kicker – #12 Anthony Arduini – Kamloops Broncos
The BC Lions Special Teams Player of the Week is kicker Anthony Arduini of the Kamloops Broncos.   He connected on his lone field goal attempt of 20 yards and was a perfect 5-5 in converts.   Arduini recorded seven kick-offs for 211 net yards and seven punts for 186 net yards.  It's his first Player of the Week award this season.
Advocating for football prospects one story at a time.