Jaydon Easterbrook began his football journey in 2010 with the Southside Bulldogs and continued up through the program to play AA high school football at John Barsby in British Columbia. He has played elsewhere as well.
"In 2014, I played for Team BC at the Red River Cup where I was chosen as captain of the defensive line," Jaydon says. "I received the 2015 AA Varsity Western Conference Outstanding Grade 11 Player award, the 2014 Nate Hughes Coaches award, the 2013 Most Inspirational Player, the 2012 Most Sportsmanlike Player, Grade 8, 9, 10 and 11 John Barsby Top Male Athlete award, as well as numerous academic awards."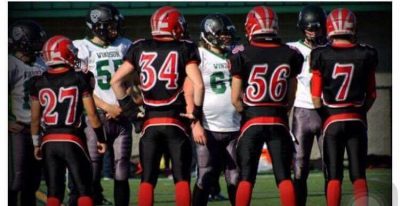 During last season and throughout high school, there were a couple things that were highlights. "The whole experience of playing high school football and bonding with teammates," he says.
In terms of the recruitment process, there has only been a little bit of activity so far. "I have spoken with a few coaches and recruiters, but haven't had any offers or serious interest yet," Jaydon says. "Open to all schools for now." Jaydon is interested in having "the opportunity to visit any potential universities."
His family, teammates and coaches have been influential figures in his life.
As for a training regimen, Jaydon's high school has a structured environment for athletes. "We have a performance and strength class at Barsby, which is split into speed/agility and weight training," he says. "We spend a lot of time under the bar doing Olympic lifting, which helps a lot with on-field explosiveness." He also aims to continue improving as a player any way possible.
"Stay motivated, stay focused on myself," Jaydon says. "I plan to try to be my personal best and get better each practice and weight room session."
Jaydon has aspirations, both on and off the field. "My goal is to study engineering at a post-secondary institution, and if the opportunity presents itself I would love to play CIS or NCAA football."
Jaydon Easterbrook
Defensive End, Tight End
6'2, 220 lbs
Teams: Southside Bulldogs, John Barsby Bulldogs
Commitment: None
Official Visits: None
Consideration: Open
Class: 2017
About Canadafootballchat.com
Canadafootballchat.com (CFC) is the number one national amateur football website (source: ComScore.com) and most respected source for high school and recruiting news in Canada.  CFCs mission is to promote players, coaches, administrators, teams, & leagues from coast to coast. Powered by 40+ local reporters, CFCs content driven network covers Canadian NCAA & CIS recruiting, and high school players & teams like no one else.
About CFC Insider
The 'CFC Insider' section is for the fan, player, coach, parent, looking for MORE. The mission of this exclusive membership section is to give more recruiting news, exclusive rankings and multi-series stories as well as coach-player instructional videos. To become a CFC INSIDER member, CLICK HERE!
Advocating for football prospects one story at a time.