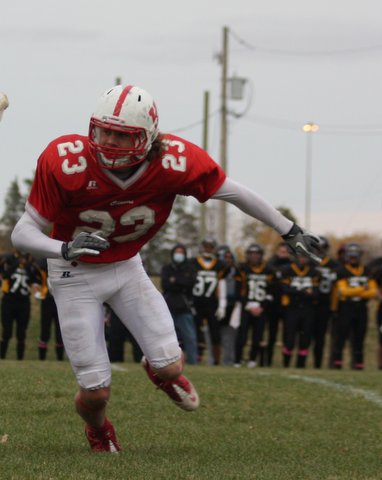 Winnipeg free safety joins CWUAA team's 2014 class.
Alberta Golden Bears Head Coach Chris Morris left a favourable impression with Nathan Dickson.
Consequently, the 6'2, 190 pound free safety from Winnipeg, Manitoba has decided to begin his career with the CWUAA team.  Dickson will join the Golden Bears for the 2014 season.
"At my initial visit with Coach Morris, he presented a combination of academics and athletics that appealed to me," explained Dickson of his decision.  "The amount of time spent training and studying is what I feel is needed to help me play football at a higher level and transition from high school to university classes."
"I'm excited that the Bears would like me to be a part of their future and the fact that some of my fellow Team Manitoba teammates have also committed to Alberta make it that much better."
The defensive standout recently played for the Kelvin Clippers of the Winnipeg High School Football League (WHSFL).  This past season, Dickson has a team best 71 tackles (ranked fourth in the WHSFL). For his exceptional play on the field, he was named Clippers MVP.
During his career, Dickson registered 1623 tackles and caught five interceptions.
Moreover, he suited up for the Crestwood Grizzlies and has been a member of both the Team Manitoba under-16 and under-18 provincial teams.
In July 2013, the free safety represented his home province as a member of Team Manitoba at the 2013 Football Canada Cup in Moncton.  During the tournament, Dickson named Defensive Player of the Game three times (versus Ontario, Nova Scotia & New Brunswick).
(twitter: http://twitter.com/vohra_ameeta)
Advocating for football prospects one story at a time.