CFC INSIDER
DID YOU KNOW, is a weekly instalment that brings you some fascinating stories of Canadian football from across the county and at all levels.
In this week's edition:
Family can be the people who surround you.
Why we need High School Football.
Unfair Ruling against Secondary Junior team.
International bowl 2017 feature teams.

PHOTO: Ian Kucerak
1. Family is the people who surround you.
Receiver Tylor Henry with the University of Alberta Golden Bears hasn't only achieved great numbers with the team in his four years. He has also learned what a family truly is with help of his teammates and coaches.
Growing up in a home with a father who had different struggles and having a mother and sister to pick up assorted pieces of the abuse; Tylor struggled to find him and somewhere safe.  He had to learn to find his worth, esteem and safe place somewhere other than within in his home.
After some crucial years at home and with a junior team in Edmonton, he eventually got in the U of A and onto the Golden Bears team where he finally felt he had found a place he belonged and he where he slowly found a family community that provided him the safe place he longed for.
Source: Jason Hills Edmonton Journal
2. "We Need High School Football".
Plays? Most fans don't know how to understand the plays that are yelled on the field and most people think that it is truly the spotlight of winnings and achievements are the desires of most football players.
But the truth is that football teaches all types of different of responsibilities, there is a teaching within football that are more than just about winning and successes of the game. Qualities of what we learn is in football is what becomes the best tools of becoming a great person.
High school football is crucial to these because it gives them a sense of belonging. This is an impactful force for lost youths who have no direction, give them a confidence and there is no barrier to entry like money or lack of ability. Also the empowerment that football gives youth today, making them believe that they can do anything on and off the field.
Basically because of the magnitude of positions on the field and the back-ups to the first string players, there is always room for teens to find a sense of belonging, responsibilities, and a drive that will provide them the tools for an excellent life.
Source: TEDxWestVancouver ED 'Why We Need High School Football", Angus Reid
With a computer glitch causing a major issue, it has kept the Lorne Park Spartans Football Team from playing in the playoffs this year. Frustrated parents have begun to rally support in the community to have the ruling over turned.
Being that in late September there was a computer error that cause a disqualified game with the Spartans and an a opposing team that was due to a new computer system and was not caught by the ruling athletic association (ROPSSAA). The ruling by the association has no eliminated the Spartans from the playoffs and the parents and players are asking for the community to sign the petition to have the whole debacle reversed.
Being that it was a computer error the families do not feel that the players should be punished on something that the ROPSSAA should have caught themselves.  There have been 2 unsuccessful appeals and the team and families don't believe a human error in a series of appropriate documentation submitted by the coach to the association should be the reflection of the whole team.
Source: Nancy Porter Go Petition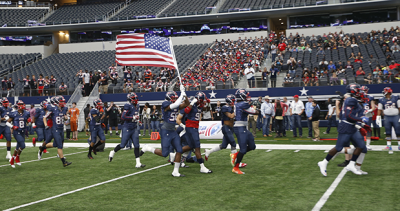 PHOTO: Stephen Spiewak
4. International Bowl 2017 Feature Teams.
Arlington, Texas will once again be the home to the 2017 International bowl. Going into the 8th year of this annual event the 7 games filling 2 days is going to be a full house of varying degrees of teams from Japan, United States and Canada.
All 3 of the governing bodies of football in these countries will comprise a list of respected players and coaches for the design of these teams. As for Football Canada there will be representative teams from Ontario, Alberta and Saskatchewan.
Expecting the growth of this bowl to grow in the years ahead, the more there is planned the more teams and participants come. And with growth becomes the challenge to establish the teams and this year for a first time, there will be tryouts being offered in the US. With competition so steep sometimes the summer camps and the tryouts don't even get these young men recognized for their talents.
Games start on Monday January 16th, 2017 thru till Tuesday January 17th, 2017.
Source: Stephen Spiewak USA FOOTBALL
DID YOU KNOW (16): Dec. 4, 2016
DID YOU KNOW (15): Oct. 30, 2016
DID YOU KNOW (13): Oct. 17, 2016
Advocating for football prospects one story at a time.