Dallas Jackson has had a great 12 seasons of football, starting at the age of nine with the OPP Minor Football League.
The defensive tackle played there for five years before he switched to the Limestone District Grenadiers Football Club, where he has been for four seasons.
He has also played three seasons with his high school team, the Ernestown Eagles, in the Kingston Area Secondary Schools Athletic Association (KASSAA).
"Every year I improve, learn and grow as a player," said Dallas. "That's important to me."
This up coming spring season, the Eagle will also be the lineman coach for the Thousand Islands Minor Football League.
"I've had the opportunity to play with some great guys and the best part is the friendships I have made," continued Dallas. "I play with guys that I consider my brothers and those types of friendships carry on out on the field."
"Win or love we build each other up and that is important to me as well."
The Eagle is also participating in this year's Fox 40 Prospect Challenge as he takes any opportunity to grow and learn as a player.
He is looking forward to being able to apply it to his game and to himself as a coach this spring.
"I also hope it helps me to show what I can offer as a player," added Dallas.
The 2018 graduate would also love to make it onto the CFC100 list.
During the offseason, he joins other sports to keep fit and active, as well as does his best to eat and work out any chance he gets.
"Weight training has been a big help," commented the defensive tackle, who when away from sports, spends time with his family, his biggest supporters.
Moreover, Dallas loves the game so it was only natural for him to play.
"I enjoy being part of a team and together achieving the end result, which is a win in our column," continued the Eagle. "Playing has also given me the opportunity to learn all aspects of the game."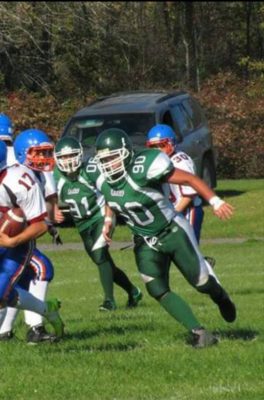 Dallas Jackson
Position: Defensive tackle
Height/Weight: 6'1", 252lbs
Teams: Ernestown Eagles (KASSAA) and Limestone District Grenadiers
Class: 2018
Advocating for football prospects one story at a time.