The Steinbach Sabres will have their first test in the 'AAA' division of the WHSFL against the Dakota Lancers this Friday, September 8th. The Sabres earned their way to the top division by defeating the Kelvin Clippers last year in the CTV Bowl, 16-0.
This year's preseason was a much needed experience for the Sabres as they head into a season against different opponents. Head coach Jamie Peters explained, "We did not come out and compete the way we need to for a football game. We were flat, made a number of mistakes and failed to make big plays in all 3 phases of the game."
One of the challenges that the Sabres will face in Friday's contest is more physical and tougher competition. "These teams have stronger players on both sides of the line of scrimmage and there are some outstanding athletes at all levels of the WHSFL but especially in the top division," said Peters.
Steinbach will be focusing on their compete level in this week's game. Their level of physicality, and amour focus. "We need to focus on what we do and what we control to ensure that we are in position to make and finish plays," mentioned Peters.
For the Sabres to be successful on Friday they will have to play sound and disciplined football. They'll need to execute the calls, and not try and to do it on their own. Peters added, "We need to be physical and make some big plays in all 3 phases."
During this year's preseason the Dakota Lancers were able to execute their game plan, and were able to look at a variety of personnel in game situations. "It was encouraging to see our youth gain some confidence and our veterans desire to compete," replied Coach Raymond Jarvis
In preparation for their game against Steinbach, the Lancers will be trying to clean up the details of their game to maximize their opportunities. "Steinbach is a well coached team with a talented group of players," said Jarvis. "Coach Peters will have his team ready to go and we will need to come prepared to compete.​"
With the Sabres and Lancers not having a matchup in the preseason matchups are difficult to determine, but coach Jarvis mentioned that line play in the trenches will be vital to the overall success for each team this week. Dakota will rely on their offensive line to give their quarterback the time to manage and distribute the ball to their athletic receivers and backs. The expectation of Dakota's defensive line is to create havoc in the backfield, allowing the linebackers and defensive backs to flow to the ball.
The biggest key for the Dakota Lancers to have a victory this week is to play to the expectations they've set for themselves, and compete each and every down.
Friday's game is at 5 in Steinbach.We at CFC think this game will go down to the end, but Reid Vankoughnett will lead his team to victory, 31-28 Dakota.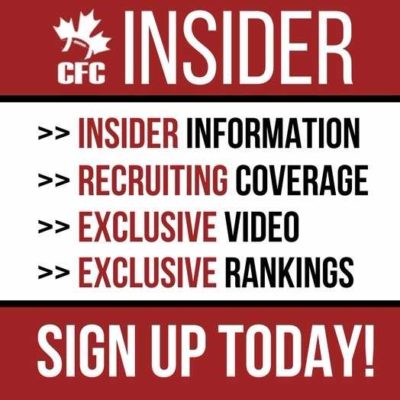 Advocating for football prospects one story at a time.