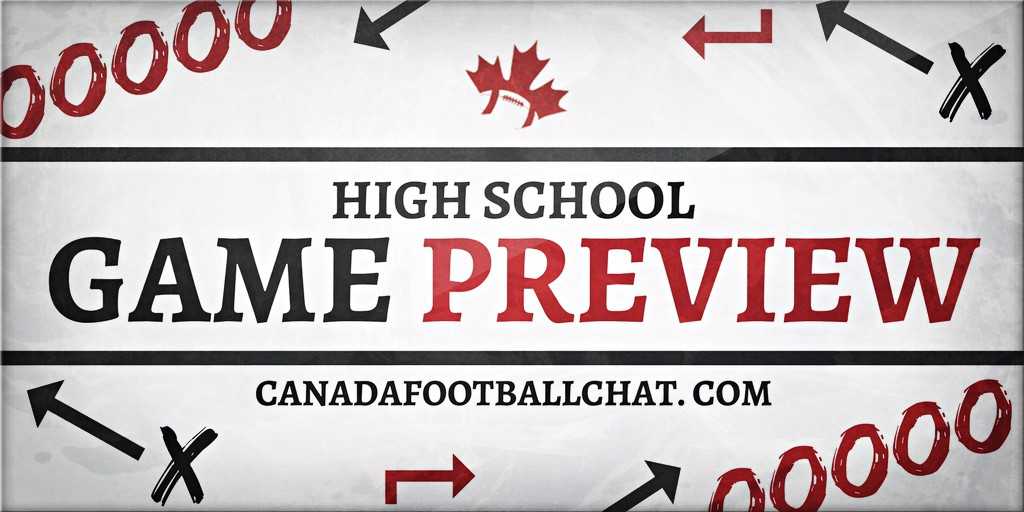 Here are this week's playoff games to follow in the West and Atlantic provinces. Ontario and Quebec are done separately.
*Note: some games may have been played by time of publication
No. 4 LeBoldus Golden Suns (8-0) v. No. 19 Holy Cross Crusaders (6-0-1, 1-0)
This is the end of the line for the provincial title. Schwann conference LeBoldus will face 6a Holy Cross for a chance to hoist the trophy over their heads. These two teams seem pretty well matched. The Golden Suns beat CFC50 No. 25 Riffel for the Regina City Championship, while the Crusaders beat St. Joseph 33-9 for the keys to Saskatoon. It will be interesting to see who comes out on top.
No. 16 Salisbury Sabres (7-0-1, 1-0) v. No. 18 Harry Ainlay Titans (7-0-1, 1-1)
Didn't we just have this matchup? That one ended in a tie, 11-11. It's deja vu all over again. Last year, the Titans took the Edmonton title and headed to the Provincial final against St. Francis. This year, Salisbury no doubt wants this win more than any other. With athletes all over the field for both teams, it's quite a site. This one will come down to who has the better game plan, and who's players come to play! Whoever does that, will take home the city championship and be one step closer to the Alberta provincial champs.
No. 32 Dakota Lancers (7-1) v. Vincent Massey (7-0-1 )
Interestingly, this will be the first time these two teams match up. However, both have played St. Paul's. The Lancers beat St. Paul's in week 4, 15-13, but the game was called at the half due to weather (we still count that as a final score). Massey on the other hand, lost 22-2 by St. Paul's in week 5. This one is curious. Massey is the defending provincial champion and traditionally is St. Paul's only rival. Dakota has emerged this year as a top contender. Will the new kids on the block continue their domination or will Massey's pedigree kick in and play like the champions we know them to have been in the past. Either way, this will be a great semifinal to watch.
No. 34 LCI Rams (5-1, 1-2) v. Foothills (4-4)
Battle in the windy city as the Rams host Foothills Comp. from Okotoks in Lethbridge. This regional final should result in an LCI victory with the Tier 1 Rams team playing Tier 2 Foothills. In week 1, these two teams met in a non-conference matchup with LCI winning, 36-6. A lot has changed since week 1. Teams are better, more prepared, but could also be more banged up.  The winner of this one will go on to play the North winner, either Grande Prairie or Fort McMurray for the regional final.
No. 42 Kelowna Owls (4-2, 1-1) v. Notre Dame Jugglers (2-5)
British Columbia starts their playoffs with the 1st round a.k.a wild card. As Kelowna is in the Eastern division and ND in the western, these two teams will be introducing themselves for the first time. However, we do have one common opponent in Vancouver College. Kelowna lost to VC in week 2, 34-7, in non-conference action, while VC shut out the Jugglers, 31-0, just this past weekend. That being said, we think this will be a close one. We predict Kelowna to win by 1 score.
No. 44 Tantramar Titans (5-3) v. Riverview (5-3)
In years 2015 through 2018, TRHS has won 4 Championships, won 25 of 26 regular season games played, scored 1130 pts and only allowed 122. They have outscored their opponents by an average of 38 pts every game in those 4 Seasons. RHS has a strong tradition of winning football and has been runner-up several times. They look to take home their first Championship in their 50+ years as a program. – NBIAA
No. 1 Holy Trinity Academy Knights (8-0) v. No. 19 Cardston Cougars (8-0, 0-2)
The Knights will have a tough one against the other undefeated team, the Cardston Cougars for the Tier 2 regional semifinal. We can compare these two through their common opponent, Medicine Hat. The Cougars floored MH 45-0, while the Knights beat them 21-4. Cardston plays the likes of Raymond and LCI, both CFC50 teams. While we think Holy Trinity will give them a game, Cardston will be moving on to play in the regional final.
No. 17 St. Joseph's Celtics (9-1, 0-1) v. Austin O'Brien (6-4)
The other Tier 2 regional semifinal should prove to be a close one. AOB plays a lot of the CFC50 teams (or Tier 1) teams in Alberta. Their record does not truly reflect their level of compete. We believe that this game will be a close one, toss a coin and that's your winner.
No. 5 Bishop James Mahoney Saints (7-1, 0-1) v. No. 9 Yorkton Raider Gridders (8-0)
The Saskatchewan 5a provincial final is on the clock as the Saints take on rural Yorkton. With BJM playing tougher competition all year, we think the Saints are going to come out the champions at the end of this night.
No. 11 HJ Cody Lakers (8-0) v. Holy Rosary Raiders (7-3)
This tier 3 regional semifinal will most likely end with the winner going on to face the Cochrane cobras who earned their playoff bye. With no common opponents, we can't really make a prediction of who may come out on top of this one. While the Lakers are undefeated, Holy Rosary, we believe, has faced tougher competition. With that being said, we believe that the Raiders will be moving on.
No. L'Odyssee Olympiens (8-0) v. Ecole Sainte-Anne Castors (7-1)
LOD bested ESA in their first meeting, now dubbed the Evangeline Bowl. LOD has a strong history of football and 1 Championship. ESA in just their 2nd year has taken the 10 and 12 a side leagues by storm. – NBIAA
Advocating for football prospects one story at a time.