This Saturday's main event is a critical divisional match up between 2nd place RHS Royals (5-1, 81 pts) and the visiting 3rd place team, FHS Black Kats (4-2, 99 pts). With playoffs a week away, the winner of this game may be securing home field advantage against the other in next weeks quarter finals.
The only way this game won't happen next week is if the division's Friday night shoot out between the 4th place LH Lions ( 3-3, 53 pts) beat the visiting 1st place MH Purple Knights (5-1, 96 pts), which would result in the Lions playing  RHS, in Riverview, something head coach Guy Messervier is hoping to avoid.
"One team I don't want to play in the quarter final is Leo Hayes, they were the best 0-3 team in the Province, they're not a group I'd like to see in the play offs."
As for the task at hand, Messervier and his team realize how critical a win is, on so many levels.
"A win equals home field, we don't want to go on the road in the play offs, that's a big deal for us."
Messervier is pleased with his teams development to date, and feels all three units are primed and ready for the Kats. The Royals defence has been consistently tough against provincial heavy weights throughout six games.
"We are going to come out and try and get at them," remarked Messervier, "I think our strength this year is our D line, they're limiting a lot of what the other teams are trying to do".
Of the solid front 7, Messervier felt Jordan Olscamp and Aidan Steves have caused the most nightmares for opposing offences. Steves, who dressed but didn't play last week against St. John, will be doing the same this week due to a foot injury suffered in the week 5 rumble against TRHS.
"He's walking alright, but he's in pain. We're dressing him, we're going to need him eventually but have been able to play without him."
The Royals defence will have their hands full with the Kats offence which features multiple formations and systems. Aside from containing RB's Sam London and Ethan Stairs, RHS defenders are also going to have to account for the legs and arm of Kats QB William Hicks.
Offensively, the Royals have been explosive, burning teams thru the air behind the arm of QB Logan Grossman and the hands of WR's: Jackson Green and Cody Barton. Green, who caught 3 TD passes last week has been lights out all year, but plans on playing his best ball from now on.
"I'm treating every game like a play off game. We want to win, we're not holding back, we're showing everything to get home field advantage," said Green.
Should the Royals face the Kats in the quarters,  the winner advances to the semi's, where they will play the other division's 1st vs 4th victor, which will most likely be the TRHS Titans.
"Playoffs will be tough no matter what, it doesn't matter who you're playing, they're all playing their butts off, every team wants to win. If playing L'Odysee or the Titans, it's not going to change much, we need to go in and win."
Kick off is Saturday, October 21st at 1:00pm, Riverview.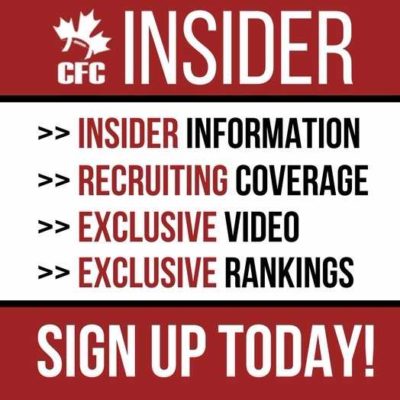 Advocating for football prospects one story at a time.