BANTING MARAUDERS (2-1)                          AT                    CFC50 NANTYR SHORES TRITONS (3-0)
After a berth in the SCAA Finals last season, the Nantyr Shores Tritons are showing that they are once again a favourite to come out of the SCAA and play a Catholic opponent for the privilege of playing in an OFSAA Bowl.
The Tritons come into Week 4 with an unblemished 3-0 record, having outscored their opponents by a robust mark of 103-15, an average margin of victory of almost 30 points/game.
The Tritons have certainly been a major force atop the SCAA standings so far, but, to a lesser extent, so have the Banting Marauders. Despite their less-pretty 2-1 record through three games, they have done more than some people expected them to, considering the youth they are employing on a weekly basis.
The Marauders won their opening two games over Orillia and Bear Creek, respectively, before dropping their third game of the season last week, a 30-7 scoreline against the Barrie North Vikings. The Marauders have a team full of rookies – some of whom in Grade 12 – after sitting out the senior season in 2016. They made an early season statement by beating the reigning Simcoe Bowl runner-up Kodiaks in Week 2, and now look to get back on the winning track after last week's defeat.
They'll be in tough, though, if they want to do so. They'll have to snap Nantyr's winning streak – which doesn't look like an easy task – and they'll have to pick up a win over one of the top ranked programs in the country. This is sure to be an intriguing matchup. Will Banting's youth come to play and make another statement – this one of epic proportions – or will Nantyr's veteran experience take a young, relatively inexperienced Marauder team to task?
Tritons' coach Jeff Rosar says the teal and gold are expecting Banting to try to run the ball down their throats. He said the running game, in particular rookie running back Justin Fawcett, is the biggest challenge they present.
It was a busy week of practice for Nantyr. They realize that, while 3-0 is great, they want to keep winning, and to do that, they need to improve every week. No matter how big or small the issue, it could be the difference between winning and losing a game, or even a championship.
Limiting mental errors example working on snap counts so we do not take careless of this procedure offside penalties," Rosar said when asked the emphasis at practice this week. "[We also] practice[d] new sets  and offence geared for this week's matchup."
The key part to any good offence is flow and consistency. The Tritons have both those things – as has been on full display in the early going this season – and that is a major reason for their success.
"[We have a] good balance of running and passing the football," Rosar said. "QB Spencer Cropper [has great] knowledge of the offence and decision-making and leadership skills on the field." He does point out, though, that the Tritons need to perform better on special teams to have all three phases of the game come together more smoothly, and says the team needs to have a stronger focus at practice, especially in game-like situations.
We already mentioned the strong Marauders' running attack, which can win them games by itself if it's not contained. Rosar understands that, and says stonewalling the running game is a major key to victory in this one.
The other one, the Tritons' bench boss says, is winning the turnover battle. The team that does this is, more often than not, on the right side of the score at the end of the game, and it will be critical for Nantyr in what is arguably their biggest test to date.
The Tritons' program has really had a 'coming out party' of sorts over the last season-and-a-half. After being just six points away from an OFSAA appearance last season, you have to look at them as a very legitimate threat to challenge the St. Joan of Arc Knights for a right to head to Hamilton at the end of November.
A big reason for their program's recent turn-around, Rosar claims, is a new bench boss who has brought a whole new culture to football at Nantyr Shores.
"The addition of Mike Tutty as Head Coach [has really helped us]," he said. "He is son of Ontario football high school Legend John Tutty from Caledon. John coached at  Mayfield High School."
The Tritons made their first ever appearance on the CFC50 two weeks ago, and have held a spot for three straight rankings. They have been moving up every week, and if they keep on winning, they're sure to continue their steady climb up among the top programs our country can boast. Rosar says Nantyr's spot on our top 50 list is a true testament to how far the program has progressed in a relatively short period of time.
"It's a huge honour to be recognized on this list. Some of these football programs are top of the province and to be in the same category with them is truly an honour," he said. "We've had success over the last couple years due to our coaches, but mostly our players, dedicating themselves to being true student-athletes – excelling on the field and in the classroom.
"We have had support from our staff but especially from [our] admin who have supported the football program and that is why we are in the position we are in."
Kickoff is scheduled for 1:30 this afternoon at Nantyr.
Photos courtesy of: Barrie Examiner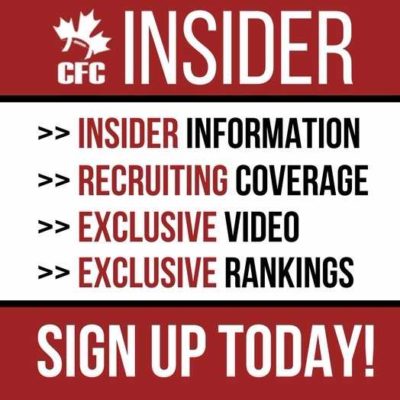 Advocating for football prospects one story at a time.