BEAR CREEK KODIAKS (0-2)                                  AT                                  INNISDALE INVADERS (1-1)
As we near the halfway mark of the Simcoe County football season (already!) there are a couple of surprises that jump off the chart at followers of the SCAA.
One is the 2-1 Banting Marauders, who lost their first game of the year yesterday at home to the Barrie North Vikings, and the other is the 0-2 Bear Creek Kodiaks. After advancing all the way to an OFSAA Bowl last year, the Kodiaks have been bumped from the CFC50 list, and are still in search of their first win of the season here in Week 3.
They will look to earn that first win of the season this afternoon against the Innisdale Invaders, who are .500 through two games at 1-1.
Innisdale gets set to host their second home game in as many weeks, having gone down to defeat at the hands of the undefeated CFC50 Nantyr Shores Tritons last week. That loss comes after a season-opening win over the Collingwood Fighting Owls in Week 1.
After a loss to the cream of the SCAA crop (at least so far) last week, the Invaders expect a strong-willed, physical team on the other side of the ball in this one,
"I expect them to be bigger and faster than us," said Invader Head Coach Chris Cudmore. On the other side, the Kodiaks know they will be in tough against a good football team playing on their home field, who are in search of a 'W.'
"It's always hard to win on the road, especially when the other team is coming off a loss," said Bear Creek Offensive Lineman Jonathan VanSchubert. "We know they will be coming out hard and try to use their speed on the outside. They have a good offence and a strong line to go up against."
Up against a top team like Nantyr Shores, unforced mental and physical lapses will certainly come back to haunt you – they did last week for Innisdale. Focus at practice this week was on refining their game and staying disciplined on the field: "To make far less mental error and to complete tackles," said Cudmore when asked what his team worked on this week.
If there is one good thing for the Kodiaks so far on the young season, it's that they haven't exactly been taken to task by either of their opponents. Entering Week 3 action, Bear Creek's point differential sits at just -19. By comparison, the other two 0-2 teams heading into this week (Collingwood & Orillia) have a combined point differential of -36 and  -51, respectively.
So it isn't a single glaring issue plaguing the Kodiaks, but a list of small issues that have manifested at the most inopportune of times, leading to two consecutive losses to start the season.
"No one thing has hurt us this year. It's been a combination of missed assignments, missed blocks, etc; all mental errors that are fixable," VanSchubert said. "We are focused on getting back in the win column this week and crack(ing) down on our mistakes."
The only way that focus during the week can translate onto the field on game day is if all three facets of the game come together smoothly while keeping miscues to a minimum
"Our keys to victory for this week are to a) get our offence back on track, as you can['t] win if you don't score," VanSchubert said, "and b) for our defence to keep stuffing the run and rushing the passer. The biggest key is our special teams as we did not look crisp last week but we worked a lot in practice on it and the guys all feel good about it."
Although not in a bad position with a 1-1 record, the Invaders have struggled to maintain consistency so far this season. Part of that has to do with a lack of flow during practices because of sparse attendance.
"We are not where we want to be," Cudmore said with regard to his team's standing so far this season. "We need to get more consistent numbers and players out to every practice."
The Kodiaks, being winless, obviously aren't where they'd like to be, either. While VanSchubert was hesitant to use the words 'must win' in reference to this game, he did acknowledge that the difference between an 0-3 record and a 1-2 mark is rather sizeable. He also pointed out, though, that there is has been a strong base already planted, and that the results will eventually turn in their favour.
"In such a short season every game has an added level of importance," he said. This game is important for us as a team to get back in the win column but also to keep building on what we've established in previous weeks."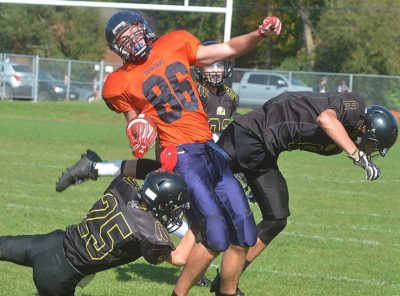 For the Invaders, it all boils down to taking care of individual responsibilities and assignments. If that happens, their talent level is more than strong enough to play with anyone.
"[We need to] execute to the best of our abilities [and] reduce the number of mental errors," Cudmore said.
As we mentioned, the Kodiaks are a much better team than that zero next to their name in the win column would indicate. They have a strong, veteran core that, when functioning on all cylinders, can be considered a top team in the County.
They're not in a good spot right now, but they're going to use their vast experience and veteran leadership to their advantage, not only on the field, but off of it, too, in hopes of righting the ship and resurrecting their season.
"We need our veterans to really step up and lead us back on track. We have lots of returning guys from the team last year who the younger guys look to for guidance and they need to set a good standard to follow."
Kickoff is scheduled for 2:30 pm at Innisdale.
Photos courtesy of: Barrie Examiner
PLAYERS TO WATCH
BEAR CREEK:
WR – Christian Maciag
RB/DL – Riley Duxbury
OL/DL – Jonathan Van Schubert
LB – Owen MacLoed
DL – Adam Schmidt
INNISDALE:

SB – Jalen Cooper
WR – Curtis King
LB – Brock Marnock
S – Jacob Devine
INJURY REPORT
BEAR CREEK:
No scratches
INNISDALE
Mac Keyes
Timothy Wilson
Advocating for football prospects one story at a time.