BARRIE NORTH VIKINGS (4-2)                                            AT                                  CFC50 NANTYR SHORES TRITONS (6-0)   
It's been a busy week in Simcoe County, as the SCAA public board playoffs are in full swing. After three quarterfinal games on Tuesday, the action continues today with a pair of semi-final matchups. The first of which is this week's CFC Game of the Week between the Barrie North Vikings and the CFC50 Nantyr Shores Tritons.
The Vikings started off the week with an 17-3 win over the Innisdale Invaders in the quarter-final (more details next week in the roundup), and now get set for their toughest test of the season against a Nantyr team that has lost just one game since the start of last season. (Unfortunately for the Tritons, that one loss came in last year's SCAA final to the Bear Creek Kodiaks.)
Speaking of the Tritons, they have have had an interesting week. They were supposed to have hosted the Collingwood Fighting Owls in a quarter-final game on Tuesday, but on the weekend, they found out that game would not be taking place due to a injuries on the Fighting Owls' roster. With that, the Tritons essentially received a bye to this semi-final game against the Vikings.
Although the forfeiture of their semi-final wasn't ideal, it did give them a couple extra days to work out some kinks without the pressure of playoff football.
"We didn't know about it until the weekend, so last week we prepared for Collingwood, Monday and Tuesday we focused on what we do," Tritons' coach Jeff Rosar said. "Once we found out we would be playing North, we now can make our adjustments and start preparing for a them."
Although the Vikings may not carry with them a flashy record into this game, they're a good team, and one that shouldn't be taken lightly.
"North is an extremely well coached team so they will be ready to play," Rosar said. "They create some challenges for us on both sides of the ball so we will need to make some adjustments."
The Vikings know what they are up against: a team with several lethal offensive weapons, a stingy defence, and a formidable special teams unit with athletes all over the field.
"Nantyr will be very well organized," said Head Coach Burke Erwin. "Combine that with great athleticism and competitive spirit, they are the real deal.
"They seem to play man to man – we could exploit that. On offence they run a variety of formations and all the athletes are pretty special."
For both of these teams, it is less about what the other team presents and more about how the teams present themselves.
"This year our goal in practice has been to focus on the areas we need to improve on," Rosar said. "We work on staying mentally sharp to avoid careless penalties – we know that it's playoffs now and if we make a mistake we need to fix it for next the play because there might not be another game."
"We will focus on us – just getting better," Erwin implored. "We have an idea of their formations so we will preview them.  At the end of the day we have to do a better job of the little things if we want to win."
Rosar admits it is "very difficult" to play a team this late in the year, but says it's something that, "in our league, you just have to expect."
Two of the Tritons' coaches, including their headman Clark Larmon, know what it's like to play in high stakes games and hope to use that experience to guide their club through the entirely different animal that is playoff football.
"Coach[es] [Mike] Tutty & Larmon both played a high level with teams that went deep into the playoffs so they know how different the levels of play are," Rosar said. "We have been working on going harder and faster in practice but still executing. They have been preaching being mentally ready as in the playoffs you cannot take a snap off."
Erwin says, though, at the end of the day, it all comes down to execution and taking care of your responsibilities – the type of game doesn't matter.
"Really our focus has been to bring the same levels of competition each week."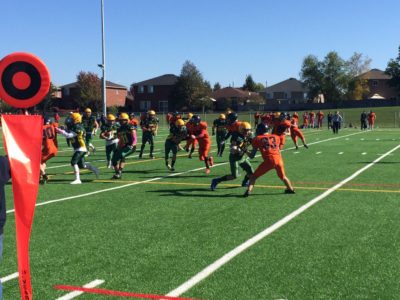 Erwin has been stressing to his team that this won't be an easy game for them to win. They'll have to earn it, and part of that is staying upbeat on the sidelines and maintaining that unrelenting focus.
"Get ready for a fight," he said when asked what he's told his team in the lead-up to kickoff. "Mentally this must be our most physical battle.  Everyone has to stay positive…communicate…and be prepared or the next assignment."
By going undefeated in the regular season, the Tritons have earned themselves home-field  advantage for the first two rounds of the playoffs. Being able to play in front of their fans, friends, and family is something that is not lost on the team and its coaches.
"For us it matters a lot; we love playing at home," Rosar said of the importance of having home turf. "We are a community-based school so support from our friends and families is huge for us."
The Vikings were able to pull out a quarter-final victory over the Innisdale Invaders, 17-3, amidst rain, wind, snow and sleet. In football, weather is often the great equalizer.
While the forecast appears to be much better for this game, Erwin believes mother nature could still play a factor in its result.
"Well, the weather still effects everyone," he said. "The game plan has to be that we are two dimensional.  At times we got running too much  because the passing game was not in gear. Weather still has a part to play – it looks like it may be gusty and the field will be soaked.
"Again, preparation and focus."
The Tritons have been notoriously fast starters this season. It will be imperative for them to get off to another good start and set the pace for an up-tempo game..
"Keys to the game for us is to come out mentally ready to play," Rosar said. "We will need to set the tone right from the opening kick off! If we do that we feel we are an extremely hard team to beat, especially at home."
On the North side of things, they will look to win the turnover battle and capitalize off Nantyr's miscues. Erwin, again, emphasized laser focus and accountability from his team.
"Turnovers could be a factor, " he said. "This will be a physical battle – We must match their [physicality] and be relentless in our assignments.  Execution is about focus and preparation.
"We play great team defence; our offence could explode at any moment."
Kickoff is scheduled for 1:00 this afternoon at Nantyr.
PLAYERS TO WATCH
BARRIE NORTH
QB – Zach Patfield
RB/SB – Josh Whyte
WR/K – David Corcoran
LB – Clayton Mrazek
LB – River Wells
LB – Kody Mumford
NANTYR SHORES
QB – Spencer Cropper
RB – Jordan Austin
WR – Dave Johnson
DE – Broderick Black
LB – Jackson Raeburn
S/KR – Steven Noble
Photos courtesy of: Barrie Examiner; Twitter/@NorthPBrucker; Twitter/@chatfootball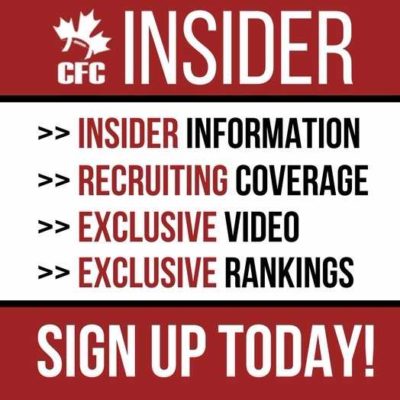 Advocating for football prospects one story at a time.