CFC50 No. 4 St. Paul's Crusaders v. CFC50 No. 39 Vincent Massey Trojans
Friday, Oct. 3 @ 5:00pm
This Friday, another heavyweight tilt between the St. Paul's Crusaders and the Vincent Massey Trojans does down at Investors Group Field. This time the rights to play in the Anavets Bowl will be up for grabs, unlike last two seasons when these two teams met in the final game of the season with both teams splitting winning the championship.
In week two of the WHSFL season St. Paul's ending up defeating Vincent Massey, 29-23. St. Paul's Head Coach Stacy Dainard mentioned that the game reinforced what they thought was both teams had graduated many players in 2016 but would still be highly competitive in the Potter Division this season. Dainard added, "As usual, games between St. Paul's and Vincent Massey will come down to a final possession as the teams and games are that close."
This year's Crusaders have done a good job of achieving balance on offence. "Each year as coaches we want to be able to pass and run effectively and I believe we are effective in both this season," said Dainard. "Defensively we work hard to be prepared and to play tenacious defense."
A key matchup in this game for St. Paul's is the battle at the line of scrimmage. Coach Dainard explained, "Over the last few years the key match-up in my opinion has been along the line of scrimmage. So whichever team controls the line of scrimmage will put themselves in a great position to advance to the 2017 ANAVETS Bowl next week."
In 2017, Kelsey McKay's squad has been resilient. The Trojans lost two close games early in the season, had a lot of games missed due to injury all year, and have still managed to win 5 straight. "We really have found our identity, and are playing our best football," replied McKay.
After the first meeting between the two teams McKay recognized that St. Paul's doesn't beat themselves and the Trojans will have to be mistake free to have success against them. McKay said he was also proud of his team for playing tough and hanging with the Crusaders until the very end.
Leading up to another tough match with St. Paul's, the Trojans have been focusing on understanding each other's roles better within their 'Team Culture'. Vincent Massey is also working on becoming more consistent in their preparation during practice this week.
Since 2015, the St. Paul's Crusaders are 4-1 against the Vincent Massey Trojans with the only loss coming in the Anavets Bowl of 2015. We at CFC think that the St. Paul's Crusaders will win a close game against Vincent Massey.
Kickoff for this one is at 5:00 pm, tickets are $5 at the gate.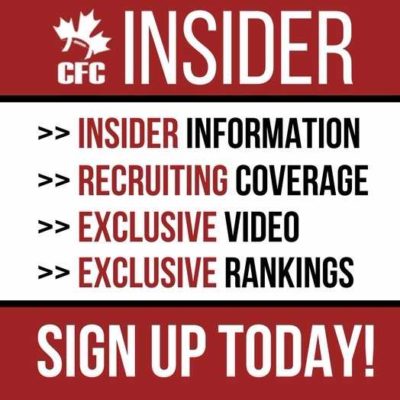 Advocating for football prospects one story at a time.