Garden City (0-1), at Sturgeon Heights Huskies (1-0)
The Garden City Gophers will meet the Sturgeon Heights Huskies this Thursday, at 5 pm. After losing a close one to the Grant Park Pirates, the Gophers will try to get their season on track. CFC100 defensive lineman Kieran Cummings of the Gophers mentioned that his team will have to work together, and make sure that everyone does their job.
Kieran replied, "Us as a team need to come together and work hard every play, I feel if we can accomplish this we will be successful." This season, Kieran's goal is to get better every day. "It doesn't just have to be football, it can be in the gym in school it's everything I want to be better than I was yesterday," concluded Kieran.
We at CFC think that the Huskies have the stronger team led by Simon Winsnes and will win a close game.
Sisler Spartans (0-1), Steinbach Sabres (0-1)
The Sisler Spartans and Steinbach Sabres clash on Thursday in Steinbach, Manitoba at 5 pm. Both teams lost their games in week 1 and are looking to even up their records. "One key to the game on offense is that we have to be way more consistent with moving the ball on drives," mentioned Sisler's quarterback, Tyler Koniuck. In their week 1 loss to St. Paul's Tyler was named Player of the Week. I asked Tyler what this could mean to his confidence throughout the season, he replied, "Being named player of the week will help me by setting the standard I should be performing at every week for the rest of the year."
In week 1, the Steinbach Sabres lost a battle to Dakota, 15-6. Keon Montrose-Rodgers and the rest of the Sabres are ready to step up and play in the Potter Division. The dominant defensive lineman added that his team is "fired up".
In this week's game Steinbach will try to maintain outside coverage better than they did last week because they know that Sisler's backfield is very quick, and their quarterback likes to run outside. On the offensive side, Keon admits their run game may not be the strongest, but are looking to get better each week. Keon added, "We are also looking to get better as a team and play like a family on the field and like brothers, GO SABRES!!!"
We at CFC think this game could be another close battle for Steinbach but Sisler will edge out the victory.
Oak Park Raiders (0-1), Dakota Lancers (1-0)
The Oak Park Raiders will try to get in the win column when they host the Dakota Lancers on Friday, at 5pm. In week 1 the Raiders lost to the Huskies and will need a solid performance to top the Lancers.
"Anytime you're on the road and playing against a home coming team it's tough," mentioned Dakota's Andreas Kastellanos. "We're in hostile territory. But we're a confident team with confident players and we are looking forward to the challenge."
For the Lancers to start off their season 2-0 they'll have to be at the top of their game. They'll have to move the ball on offense and put up points, and shut Oak Park down on defense. "We have to play a good full 4 quarters of ball and we should be alright," said Andreas.
We at CFC think the Dakota Lancers have the stronger team and will prevail.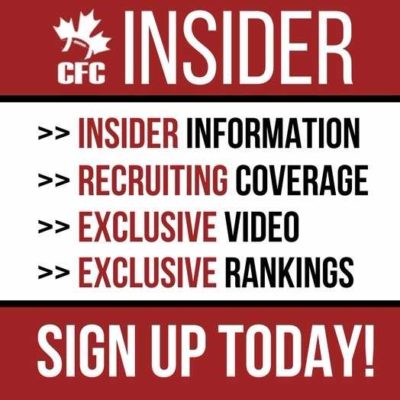 Advocating for football prospects one story at a time.