This week CFC will be covering the last regular season game in the Winnipeg High School Football League between the Sisler Spartans and the Grant Park Pirates on Friday, Oct. 20th. Sisler is in second place at 5-1, while Grant Park is in third at 4-1-1.
The Sisler Spartans have had a team effort on their way to a 5-1 record. Head Coach of the Spartans Sean Esselmont explained, "Our O-line has blocked well allowing our cast of ball carriers to pick up numbers on the ground, and our passing game has really come online this season. Our Defense has really pitched in with a lot of turnovers this year which really have helped us win games.
Over the course of the first six weeks in the WHSFL the Spartans have been relatively lucky in avoiding major injuries. When an injury does happen, Sisler has a next man up philosophy.
Congrats to Tyler Koniuk'18 (TK).. In 3 weeks he has won @The_WHSFL Offensive AND Defensive Player of the Week Awards!#SPEEDKILZ#RRFAM pic.twitter.com/JZrbK2xLFx

— Recruit Ready (@RecruitReady) September 25, 2017
Tyler Koniuck has been a special player over the last 4 years for the Spartans. "As an offensive coordinator a lot of what we have developed offensively has been with TK in mind under center," mentioned Esselmont. This year Sisler has expanded his role on the team by playing Tyler defensively as a cornerback, and on special teams as a punter. "Which ever collegiate program that is lucky enough to sign him will truly be bringing in a special player," said Esselmont. "As a coach I am very thankful for all he has given to this program over the last 4 seasons."
In order for the Sisler Spartans to end their season at 6-1 the Spartans will try to diagnose the Pirates myriad of formations on offense and defense. Offensively, Sisler will need to keep rolling with their balanced attack and take shots when they present themselves.
In last week's action, the Grant Park Pirates dismissed the Steinbach Sabres, 29-12. Some of the standouts on the Pirates' were the offensive line of Josh Sosiak, Liam Orcahrd, Tyson Spence, Ben Arnovitch, Tyler Stark and Kas Vidruk nominee Val Lazo. The offensive line powered Cody Gushulak to 262 yards rushing and two touchdowns.
On defense, Jared Boone had two interceptions and Junior Wyatt Barber also had two. Jordan Chizda played an important role by shutting down his assignment holding him to zero receptions and adding an interception as well.
This season William Huh has been a rock for the Pirates and hasn't received his fair share of credit. Will continues to provide great blocks and fantastic catches, including one for a 45 yard touchdown last week. Defensively, William is great at end and provides relentless pressure.
The message before this week's game against the Spartans is next man up. "We have lost 7 senior starters over the last 3 weeks and some young guys really need to step up this week," mentioned Kovacs. "Some people will have to assume some pretty big roles this week and Sisler is hitting on all cylinders." Grant Park hopes to keep it close and they'll try and win the game late.
We at CFC think that the Pirates have too many injuries to top a strong team like the Spartans. However, it should be a close game. Kickoff is on Friday, Oct. 20th at 7:15pm, Bison E. Field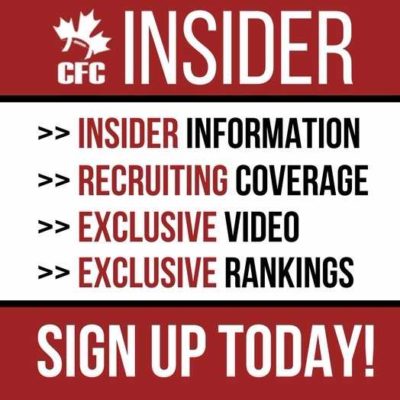 Advocating for football prospects one story at a time.