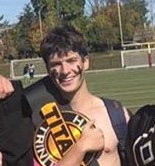 CFC RANKINGS

Become Gold Member


Although he was denied a championship rematch on the Hamilton public circuit this season, it's allowed for more growth off the field as LB Michael Cesak begins to narrow down his options at the next level. He's been doing the research no doubt, now it's time to capture the scouts imagination on the field.
What has the 'recruitment process' been like to date? Has the process intensified?
The process is slow but steady for me. I am working towards building a following in Canada and the US by reaching out to coaches and scouts and learning about what they look for in particular. Being that I still have another year and a half, it is not intense for me yet, that being said it is still only a year and a half to in essence plan my entire future. Although I have not received offers yet, I am still very optimistic that I will be able to continue playing the sport I love at the next level.
Advocating for football prospects one story at a time.