Bonnyville defensive tackle joins CWUAA team's 2016 class.
Blake Adams has been continually impressed with the buzz surrounding the strides that Head Coach Chris Morris has made with the University of Alberta Golden Bears.
As a result, the 6'0, 280 pound defensive tackle from Bonnyville, Alberta has signed with the University of Alberta Golden Bears.  Adams will join the team for the 2016 CWUAA season.
"The Golden Bears are a team on the rise, with the introduction of Chris Morris as head coach I have seen a tremendous turnaround from what the program used to be," explained Adams.  "Coach Morris is a sincere guy who expects the absolute best out of his players and has a drive to win like no other."
"The decision for me was not that difficult. What coach Morris is trying to accomplish and the style of team he is building is very similar to what I am used to in Saskatoon and something I felt drawn to. The facilities and opportunities there are tremendous."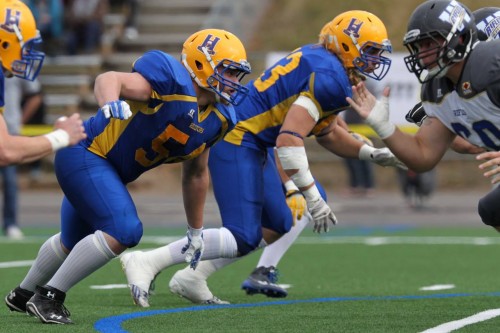 Earlier this month, the defensive tackle helped the Saskatoon Hilltops of the Prairie Football Conference (PFC) in the Canadian Junior Football League (CJFL) to their fifth Canadian Bowl Championship in six years with a 38-24 victory over Okanagan Sun.
During the 2015 season with the Hilltops, Adams recorded three sacks, registered 10 tackles, 12 assisted tackles and two forced fumbles.
Previous to the Hilltops, the defensive standout played at the high school level for the Bonnyville Voyageurs of the Alberta Schools Athletic Association (ASAA).
(twitter: http://twitter.com/vohra_ameeta)
Advocating for football prospects one story at a time.