Halifax defensive back joins AUS team's 2016 class
StFX X-Men have announced the addition of Jonah Williams to their football program.
Williams, the 5'9, 178 pound quarterback from Halifax, Nova Scotia will join the team for the 2016 AUS season.
"Jonah Williams is an outstanding student-athlete," commented X-Men Head Coach Gary Waterman.  "He is extremely accomplished on the field and in the classroom."
"He has a high football I.Q. and is one of the most energetic and enthusiastic people that I have ever recruited. His positive personally is contagious. He is going to be fun to coach and we're excited to have him join our family."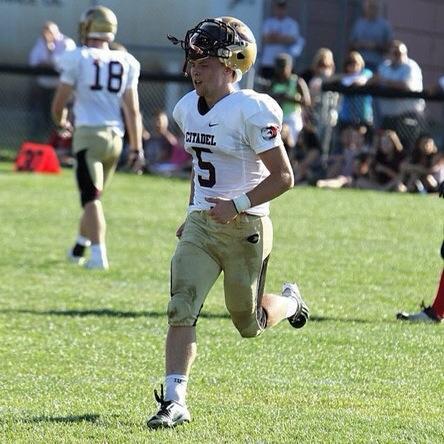 This past fall, the defensve back helped the Citadel Phoenix of the Nova Scotia Student Athletic Federation Football League (NSSAFFL) win their second consecutive Provincial Tier 1 Championship. In 2015, Williams was named the NSSAFFL's Special Teams Player of the Year as well as selected as a league all-star.
Additionally, Williams has suited up for include Halifax Argos of the Nova Scotia Indoor Spring League (NSISL) and Timberlea Titans.
Honours he has recieved include Bantam MVP (2012), Bantam Offensive MVP (2012), Wilson Cup MVP (2013), Phoenix Defensive Rookie of the Year (2013), NSSAFFL Division 1 All-Star (2014) and Phoenix Defensive MVP (2014) and Nova Scotia High School Player of the Year (2015).
The defensive back chose StFX after a lengthy recruitment process.  The other finalists were McMaster, Queen's, Mount Allison, Acadia and Saint Mary's.
X-Men Offensive Line Coach Dave Van Den Heuvel got a first hand look of Williams as they were both part of Team Nova Scotia squad that participated at the 2015 Football Canada Cup in Saint-Jean-sur-RIchelieu, Quebec. He is looking forward to having the defensive standout join the fold.
"We're excited to add a player of Jonah's caliber to our program," said Van Den Heuvel.  "While coaching with Team Nova Scotia this past summer, I was really able to see everything that Jonah brings to the program on and off the field."
Echoing the sentiments of Van Den Heuvel is X-Men Offensive Coordinator Steve Snyder.
"Jonah was a team captain for us at the Canada Cup, a standout on our team and a young man who plays the game with passion and enthusiasm," expressed Snyder.  "Jonah is a high character, high academic achiever that the StFX community is thrilled about adding to our university."
(twitter: http://twitter.com/vohra_ameeta)
Advocating for football prospects one story at a time.