Brampton wide receiver joins AUS Conference Champions
Malik Richards will begin his CIS gridiron journey in the Maritimes.
The 6'1, 195 pound wide receiver from Brampton, Ontario committed to Mount Allison Mounties. Richards will join the AUS Conference Champions for the 2015 season.
One of the decisive factors was the strength of the academic programs at the Sackville, New Brunswick campus.
"Education had a great influence," explained the CFC 100 CLASS 2014 recruit.  "Mount Allison is one of the top schools in Canada as it is the number one school for an undergraduate degree."
"The small campus enables me to reach class without any trouble. The smaller classes make for a better learning environment and more personal teaching, rather than being taught in a lecture hall."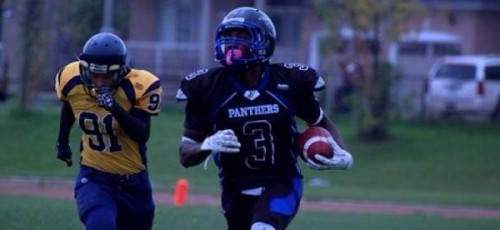 Moreover, the recent success of the Mounties football program as well as his bond with the coaching staff, especially Offensive Coordinator Gaetan Richard were additional reasons for Richards to choose the AUS team.
"The football program is on the come up, winning back to back AUS Championships," added the Brampton wide receiver.  "I feel that the Vanier Cup is not far from being brought to Sackville.
"I have developed a good relationship with the coaches, most importantly, Coach [Gaetan] Richard. The coaches expressed that the best player will play; I respect this view because I believe the best athletes should play although there may be more experienced players in that position. The coaches believe in their players and not only develop you into a better player but also make you a better individual."
Finally, the atmosphere and rallying from the community appealed to Richards.
"The community supports the team strongly," elaborated the Ontario standout.  "On my visit, I felt like I was part of a family, I felt welcomed by not only the team members/coaching staff but also from total strangers, which is an unfamiliar feeling."
Previous to the Mounties, Richards has suited up for both St. Marguerite d'Youville Panthers of the Region of Peel Secondary School Athletic Association (ROPSSAA) and Brampton Bulldogs of the Ontario Varsity Football League (OVFL). In 2014, the wide receiver was ranked on the CFC 100.
Now that his decision is made, Richards will turn his focus towards his future with the Mounties.
"Leaving my home province of Ontario and living out East will make me focus more on my education and football goals," expressed Richards.  "I am excited to begin my journey as a Mountie and compete for a Championship."
(twitter: http://twitter.com/vohra_ameeta)
Advocating for football prospects one story at a time.