Pickering fullback joins AUS team's 2016 class
Nathaniel Benjamin will be calling New Brunswick home for the next few years.
The 5'9, 230 pound fullback from Pickering, Ontario signed with Mount Allison Mounties.  Benjamin will join the team for the 2016 AUS season.
Benjamin completed his high schol career with St. Mary Monarch's of the Lake Ontario Secondary School Athletic Association (LOSSAA).  In 2014, the fullback helped the team win an OFSAA Bowl.
Additonally, Benjamin suited up for the Durham West Dolphins of the Ontario Varsity Football League (OVFL).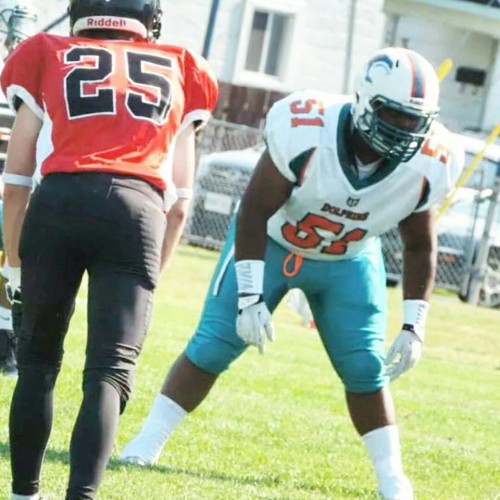 After his commitment, the fullback issued the following statement regarding his commitment to the Mounties:
"I chose Mount Allison because of the small, quiet school atmosphere. As a result of the school being so small, it creates a great family vibe."
"That's exactly how I felt as soon I stepped on campus. It has a great support system in terms of success in the classroom. They offer free tutoring as a result of that, I believe Mount A will give me the best opportunity to succeed in the classroom."
"From a football aspect, Coach Brady has been recruiting me for over a year, and I've developed a great relationship with him. When I went on my visit to the school, he didn't try to sugar coat anything. He was real with where he saw me fitting in, in terms of position, and where he saw me on the depth chart coming in. I know there are some coaches who give you what you want to hear, and then when you commit and step on campus, it's a whole different story."
"I've given Coach [Scott] Brady my full trust and confidence as a result of him being very honest with his expectations for me."
"Another reason for me joining the Mountie's is because of the history of success of the team. Mount A is in a position to win the AUS every year. I want to come in and get the opportunity to compete among gifted football players in a well developed program."
"One of my goals in playing university ball is to win a Vanier cup. You only have so much time to do get that Vanier, so I know that in me going to Mount A. I'll have a real chance to compete for one. Ultimately, In my years at Mount A, I want to make a contribution to that program with the potential to learn from those already there and to teach those coming after me."
(twitter: http://twitter.com/vohra_ameeta)
Advocating for football prospects one story at a time.