CanadaFootballChat.com brings you the National High School Previews and Predictions.  Each week, we will preview the must see games of the week province to province and provide a prediction of the outcome.
BRITISH COLUMBIA:
CFC#2 Terry Fox Ravens @ CFC#19 St. Thomas More Knights
Friday October 10th, 5:00PM
Two giants are about to square off on Friday as CFC#2 Terry Fox Ravens will visit CFC#19 St Thomas More Knights.
Both squads are undefeated coming into this battle and each are motivated to keep their spot at the top of 'AAA' Varsity Division.
The Ravens will be led by a trio of CFC 100 players quarterback Conner McKee as well as linebackers Mike West and Isaiah Stevens.
Last year when both these teams met, the Ravens escaped with a 19-12 victory over the Knights.  There is no reason to indicate that it won't be another tight battle.
PREDICTION: Terry Fox Ravens 20, St. Thomas More Knights 16
ALBERTA:
Foothills Falcons at Holy Trinity Academy Knights
Thursday, October 9, 7:00 p.m., Knights Field, Okotoks
Lots of good action at the Tier II level this week including a bragging rights Donnybrook in Calgary between traditional Tier II power St. Mary's and surprising Bishop Carroll on Friday which will go a long way to seeing who breaks out of the City into Provincials come November.  However, when it comes to rivalries there is nothing in the Calgary area that matches the small town passion for high school football than the "Battle of Okotoks".  Both teams sport records barely over .500 but they also play a pile of games against all comers including Tier I powers like Henry Wise Wood and Raymond keeping them humble and razor sharp for games like this one on Thursday.  It's anyone's game in a mid-season treat in Okotoks that's must see.
Source:  Alberta High School Football
SASKATCHEWAN:
Centennial Chargers @ CFC#25 Holy Cross Crusaders
Friday October 10th, 7:30PM
Under Friday Night Lights in Saskatoon, the two top teams in 4A will duke it out for supremacy as CFC#25 Holy Cross Crusaders host Centennial Chargers.
While the Crusaders lost many starters from last year, the team has held their own and shown no signs of being affected so far this season. Pivot Tyler Hermann, running back Josh Ewanchina, receiver Anthony Ferwerda and offensive guard Austin Tyson will lead the charge for the Crusaders.
The Chargers want to avenge their disappointing single point loss (36-35) loss to the Crusaders in last year's 4A semi-final.
Quite conceivably one of the most highly anticipated high school games of the 4A season.  It promises to be just as epic as the game that was staged in Regina last week with Leboldus and Campbell.
PREDICTION: Centennial 40, Holy Cross Crusaders 38
MANITOBA:
CFC#14 St Paul Crusaders @ CFC#15 Oak Park Raiders
Friday October 10th, 5:00PM
The must see game of the year in Manitoba high school football has all the elements of drama, intrigue and suspense wrapped up in one.
CFC#15  Oak Park Raiders will host the defending provincial champions CFC#14 St. Paul's Crusaders.
A couple of WHSFL Players of the Week will be the ones to watch for in this game.
In five games with the Raiders, CFC 100 running back Brady Oliveira  has amassed 1271 rushing yards and 21 touchdowns. Meanwhile, Week 5 Player of the Week Drake Lesperance completed 10 passes in 16 attempts for 249 yards, three touchdowns and 17 rushing yards in the Crusaders win over Grant Park Pirates.
Ultimately, the Raiders want to obliterate the memory of the 41-3 drubbing they received at the hands of the Crusaders a year ago.  This time around, expect this game to be a lot closer.
PREDICTION: St Paul Crusaders 35, Oak Park Crusaders 32
ONTARIO:
CFC#6 Cardinal Newman Cardinals @ CFC#21 St Thomas More Knights
Friday October 10th, 12:00PM
One of the biggest matches this week will be in Hamilton Catholic high school as CFC#6 Cardinal Newman Cardinals will visit CFC#21 St. Thomas More Knights.
CFC 100  running back Justin Connolly will play a significant role on the success of the Cardinals success.  Last week, he scored three majors (1 yard rushing, 4 yard rushing, 19 yard reception) to lead the way for the Cardinals in their victory over rivals Bishop Ryan Celtics.
On the other side, pivot Mitchell Phillips will lead the Knights' offensive game execution plan.  He dashed into the end zone for a 30 yard go-ahead touchdown score in the Knights win over St. Jean de Brebeuf Braves.
This will be a thriller just like the last time these two squads met in 2013.  The Cardinals prevailed with a 24-13 over the Knights.
PREDICTION: Cardinal Newman Cardinals 24, St. Thomas More Knights 17
CFC#13 Huron Heights Warriors @ Bill Crothers Colts
Thursday October 9th, 3:00PM, Uniondale
Round two of this 2014 battle continues Thursday afternoon in Uniondale.  CFC#13 Huron Heights Warriors look to silence their archrivals, Bill Crothers Colts.  However, if the last time these two teams met is any indication, it will be a fierce battle.
Against the Colts, the Warriors had to mount a comeback and a late play gave them the 25-18 victory.  Quarterback Luke Griese rushed into the end zone for a 17 yard score while Mike Strumos rushed for two majors (23, 29 yards).  Griese found Skyler McMurty for a 46 yard touchdown reception.
This has the makings of being another epic battle between two bitter rivals.
PREDICTION: Huron Heights Warriors 27, Bill Crothers Colts 22
CFC#28 St.Marcellinus Spirit @ St. Edmund Campion Bears
Friday October 10th, 12:00PM
On Friday, St. Edmund Campion Bears will look to hand rivals CFC#28 St Marcellinus Spirit their first regular season loss.
Pivot Jordan Whyte, offensive threats Giovanni Ellis and Thomas Oshana as well as kicker Jordan Prescod and defensive standout Julien Taylor-Patrick will be the ones to watch for on the Spirit.
These two teams have not competed against each other in quite some time so this will be a unpredictable and intense game to watch.
PREDICTION: St Marcellinus Spirit 30, St Edmund Campion Bears 20
CFC#45 St Patrick's Irish @ St. Peter Knights
Wednesday October 8th, 7:30PM
A great game is on tap tonight between two rivals.
St Peter Knights will entertain CFC #45 St. Patrick's Irish.  Both teams come into this game undefeated and the stakes will be high for each team to keep their records intact.
The Irish want to avenge the 21-6 loss the team faced against the Knights in 2013.
A dandy is about to go down in Ottawa tonight.
PREDICTION: St Patrick's Irish 17, St Peter Knights 16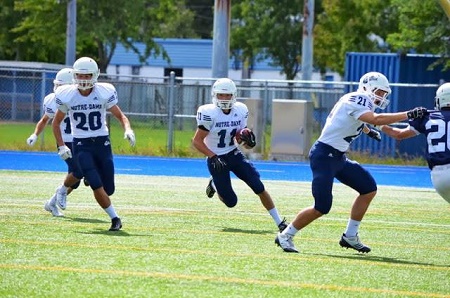 QUEBEC:
CFC# 42 Academie Les Estacades @ CFC#11 College Notre Dame Cactus
Friday October 10th, 7:00PM, College Notre Dame
With the playoff positioning push accelerating, two CFC 50  squads will meet Under Friday Night Lights.
For the CFC#11 Notre Dame Cactus, Francois Rocheleau will be the offensive catalyst.  Last week, he was unstoppable as he tallied four majors, rushed for 292 yards on 32 carries and added five PAT's as  team defeated CFC#38 Saint Jean Eudes Condors 35-23.
Meanwhile, CFC#42 Academie Les Estacades will depend on Alexis Daigneault who scored three touchdowns (two rushing, one receiving) and amassed 114 yards on four receptions in the team's 41-29 victory over Roger Comtois Patriots.
The last time these two teams met was in 2013 and the Cactus came out on top with a 33-19 win over Les Estacades.
Expect this game to have an electric atmosphere as well as tons of offensive displays from both squads.
PREDICTION: College Notre Dame Cactus 40, Academie Les Estacades 28
NOVA SCOTIA:
Sir John A MacDonald Flames @ CFC#40 Citadel Phoenix
Sunday October 12th, 1:00pm, Saint Mary's Huskies Stadium
Saint Mary's Huskies will once again be the scene of an annual tradition in Nova Scotia high school football.
However, there is a different flavour to this year's Turkey Bowl.  CFC#40 Citadel Phoenix will not be hosting Cobequid Educational Centre Cougars as they have the past few years.  This time, it's the defending NSSAFFL Provincial Tier 1 Champions and rivals, Sir John A MacDonald Flames.
The last time these two teams met, the Flames sent the Phoenix packing in the Tier 1 Semi-Finals with a 31-17 victory.
However, this a new year and the Phoenix have unfinished business and would like nothing more than to unseat the defending champions in front of packed audience in South End Halifax.
One player that all eyes will be on is CFC 100 offensive lineman Jon Harvey who will be expected to lead the Phoenix offense.
"This is a fantastic new tradition between two rivals and elite programs," commented Phoenix Offensive Coordinator Jon Dyer of the 2014 Turkey Bowl.  "We're thrilled that such a big game will now have an annual tradition of a thanksgiving weekend game."
"It's a treat for the players, alumni, and fans. I'm sure there will be a couple thousand people at the game so it's an exciting weekend for Football in Nova Scotia."
PREDICTION: Citadel Phoenix 30, Sir John A MacDonald Flames 17
Photo credit:  Mark Kays
NEW BRUNSWICK:
Riverview Royals @ Tantramar Titans
Saturday October 11th, 12:00PM
In a key Saturday afternoon matchup, the Tantramar Titans will battle the Riverview Royals.  This game is surrounded by intrigue and the stakes are high for both teams.  Ultimately, the outcome of this game may determine who will end up as the second and third seed going into the 12 Man Division playoffs as well as the the head-to-head advantage in the tiebreaker.
The last time these two teams met was a year ago when the Royals cruised to a 58-21 win.
Titans team captain and lineman Ross McCormack will be expected to motivate the team going into this battle.
Overall, the intensity, talent on both teams and energy of the crowd makes this one of the most exciting high school games in New Brunswick football.
PREDICTION: Riverview Royals 28, Tantramar Titans 21
Advocating for football prospects one story at a time.