On Thursday evening, Nova Scotia football fans will get to witness the highly anticipated football game of the 2013 high school regular season.
In what could be preview of the Tier 1 Championship Game, the five time defending provincial champions and CFC TOP 50 ranked Citadel Phoenix put their unbeaten streak on the line as the team faces the Charles P Allen Cheetahs in Nova Scotia Student Athletic Federation Football League action this week.
While both teams have a mutual respect for each other, they also know how much hype will surround this game.
"As a fan, if there was only one high school football game you could attend this season – this is the one:  Citadel at CPA," commented Phoenix Co-Head Coach and Defensive Coordinator  Jeff Lawley.  "My best advice to fans is to get there early as it will be standing room only!"
The Cheetahs will have their hands full as the Phoenix come into this game with their unbeaten streak intact – 44 consecutive game winning streak since 2008 and an overall record of 61-3 since 2007.
The strength and success of the Halifax football program is not lost on the Cheetahs.
"Citadel has been and continues to be the team to beat in the NSSAFFL, "expressed Cheetahs Head Coach Michael McPherson.  "They have a solid program every year and we don't expect this year to be any different."
"Their consistent success can be attributed to their leadership in Mike Tanner and Jeff Lawley and the several quality resources they surround themselves with. They are able to attract close to 60 kids annually which certainly helps build a sustainable, very competitive program. Citadel has a roster full of great players, who are consistent within both their offensive and defensive systems."
However, the Cheetahs are ready to face this challenge head on and believe they could have the answer in solving the Phoenix. Ultimately it is going to take a full team effort from all three units to succeed against the defending provincial champions on Thursday.
"Our goal and plan is certainly to challenge ourselves and them on Thursday night," replied McPherson. "There are many things we must do to enable our success and get the win."
"At the top of this list is protecting the football, execution and discipline over the course of Thursday's game.  Again, this is a great test for us early and should provide us with a benchmark for areas to improve on.  We know that it is going to take a solid effort on offense, defense and special teams and that there can be no passengers on Thursday night, everyone must show up ready to play!"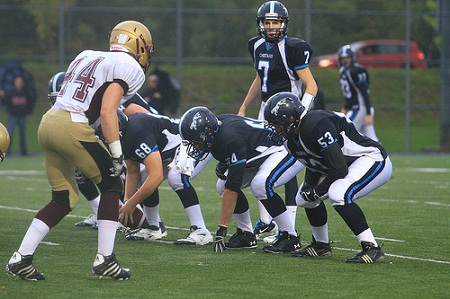 However, the Cheetahs do have a wealth of experience and talent which makes them a contender this year to dethrone the Phoenix.  Several players on the roster experienced winning a championship this spring as members of the Metro Mustangs. Moreover, 10 players from the Cheetahs roster represented Team Nova Scotia at the 2013 Football Canada Cup tournament in Moncton, New Brunswick, including Special Teams MVP of the tournament, kicker Greg Hutchins.  Recently, Hutchins was selected to the tournament All-Star team, which netted him an invitation to go to Texas and play Team USA as a member of the national under-18 team.
Other than Hutchins, the players expected to step up for the Cheetahs include quarterback Sean Muir, 2012 NSSAFFL Nova Division MVP Taylor MacDonald, linebacker Brad Bevan, cornerback Giovanni Holmes, linebacker Jesse Boudreau, fullback/defensive tackle Jay Hachey, offensive lineman Liam Hickey as well as defensive backs Matt Bayne and Will Chamberlain.
The Phoenix is aware that with all the talent and experience their opposition possesses it will be their toughest test of the regular season.  However, the defending provincial champions have some idea of which players to watch for and what to expect from both units on Thursday.
"CPA is a very skilled and talented team, and it will take our best game to compete with them," evaluated Lawley.  "They won the Spring League series so they are definitely the favourite in this game."
"Top to bottom they are tough, physical, and talented team.  They have an experienced coaching staff.  CPA boasts a roster full of Provincial Team players and a National Team Kicker (Greg Hutchins).  The quarterback (Sean Muir) runs terrific ball fakes to help set up an excellent aerial attack and if that gets shut down, Taylor MacDonald has the ability to pound the rock.  They have a relentless defense that seeks out turnovers."
The Phoenix will depend on the leadership of their veteran players on Thursday.  Those players include CFC TOP 100 defensive lineman Shaun Robinson, offensive lineman O'Neil Barton, Spencer Bennett , defensive back Liam Connell, Reid Oxner, quarterback Byron Kavanagh, running back Scott Baigent , receiver Drew MacIsaac, receiver Ian Farrell, offensive lineman Sean Reardon  and defensive lineman David Dean.
Ultimately, the Phoenix must remain focused on the task at hand.  Like the Cheetahs, the Phoenix will need a total effort from all players with the goal of winning the game.
"It will take a total team effort on our part, we are not asking individuals to step up in this game – we will need everyone to step up," added Lawley.
While this is only the third week of the season, already the stakes are high as playoff implications come into play because of the changes with the alignment structure the league implemented this season.
"Winner of this game will take a commanding position in the Nova Division," explained Lawley.  "Only the top two spots in the Nova Division will compete for the Tier 1 Championship so this game has serious playoff implications."
On Thursday, there will be added motivation for the Cheetahs to succeed against the defending provincial champions.  Not only is this the season opener for the team, but it will mark a special moment for the school and football program.
"They are playing their inaugural game on their new turf, at their new school with brand new uniforms," said Lawley.  "I am absolutely convinced they will be jacked to show their home crowd the firepower they possess."
As for the Cheetahs, they are simply thrilled about having the top team in Nova Scotia high school football as a part of this special home opener.
"We are looking forward to our first home game on the new Turf and hosting a great program in Citadel," expressed McPherson. "It should be an exciting night under the lights."
Charles P Allen Cheetahs will host the defending provincial champions Citadel Phoenix on their new Turf on Thursday September 19, 2013.  Kickoff is 6:30pm
Photo credits:
Charles P Allen Cheetahs – Joe Chrvala
Citadel Phoenix – Cathy Connell
(twitter: http://twitter.com/vohra_ameeta)
Advocating for football prospects one story at a time.