A couple of reignited rivalries highlighted this past week's action in the Nova Scotia Athletic Federation Football League (NSSAFFL) Division 1 action.
Yesterday in Upper Tantallon, the Charles P Allen Cheetahs put a damper on Sir John A MacDonald Flames home opener by edging the hosts 15-14.
Late in the fourth quarter, pivot Duncan Patterson connected with Michael Forsey for a 16 yard major.
#NSSAFFL @CheetahsFB edge out #SJA Flames 15-14 in Division 1 play -winning 16 yd TD pass from Patterson to Forsey pic.twitter.com/8ASgSJzD9l

— Ameeta Vohra (@vohra_ameeta) September 8, 2015
Moreover, Moe Jabber added two field goals for the Cheetahs. As for the Flames, Adam Bennett scored the lone touchdown and amassed 134 rushing yards.
#LabourDay in #NovaScotia #HSFB #SJAFlames lead @CheetahsFB 12-6 in #NSSAFFL Division 1 – opening game for both teams pic.twitter.com/hT7KzdXjG4 — Ameeta Vohra (@vohra_ameeta) September 7, 2015
Next up for the Cheetahs is a road trip to Acadia this upcoming Sunday to battle the Horton Griffins at Acadia's Raymond Field.  Kickoff is 6:00pm.
Meanwhile, the Flames will face defending champions and #CFC50 31st ranked Citadel Phoenix on Monday night at Burnside Park.  Game time is 7:00PM.
Here are the rest of the results from Week 1 in the NSSAFFL: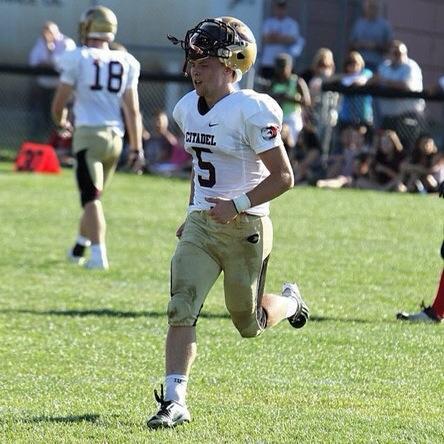 DIVISION 1:
CFC#31 CITADEL PHOENIX 59, COBEQUID EDUCATIONAL CENTRE COUGARS 0:
At Bedford Hammonds Plains Turf on Thursday night, Jack Campbell scored three touchdowns and rushed for 220 yards as CFC#31 Citadel Phoenix tamed the visiting Cobequid Educational Centre Cougars 59-0.
Tyrique Dixon-Bowden tallied a major and racked up 115 rushing yards.  Tristan Reece dashed into the end zone for score and had 65 rushing yards while pivot Monecko Clayton found Greg Ellison for a 20 yard touchdown pass.
On defence, Jonah Williams caught an interception and converted it into a major.  Additionally, he scored a touchdown off a punt return for the Phoenix.
Toby Gerard recorded three sacks and five tackles while Jacob Morgan registered eight tackles.
Overall, the Phoenix was satisfied with their effort against the Cougars, especially the performance of Clayton.
"This was a great start for our team this season," commented Phoenix Offensive Coordinator Jon Dyer after the win.  "Our offensive line came out well and provided some great running lanes for our running backs."
"Monecko [Clayton] filled in as the starting quarterback for Cameron Valardo this week and he stepped up and did a great job. "
Despite the huge margin of victory, the Phoenix still feel that they have some tweaks they need to do in the coming weeks in all three facets of the game.
"We need to improve in every area of the game though," assessed Dyer.  "At this point in the season, it's about developing our players within our systems and making sure they peak in November."
The Citadel Phoenix will host Sir John A MacDonald on Monday September 14th at Burnside Turf.  Kickoff is 7:00pm.  As for the Cobequid Cougars, the team will enjoy a bye this upcoming week.
DIVISION 2:
SACKVILLE HIGH KINGFISHERS 52, COLE HARBOUR CAVALIERS 3:
On Thursday night at Burnside Turf, Tyrell Young had two rushing majors as defending Tier 2 Champions Sackville High Kingfishers opened their season with a 52-3 rout of the Cole Harbour Cavaliers.
Jalen Loppie, Chris Roberts, Cameryn Robichaud and Justin Morgan all scored touchdowns for the Kingfishers.
Trevor Larkin led the Kingfishers defence as he scored a major on a 57 yard interception.  Additionally, Matt Skinner had a pair of fumble recoveries.
As for the Cavaliers, Taylor Muise put up the team's only points on the scoreboard with a 47 yard field goal.  He also caught an interception and had three tackles in the game.
On defence, Kevin Holland registered 10 tackles while Logan Trimper blocked a field goal and added seven tackles in the loss.
Ethan Leeman rushed for 87 yards on 16 carries for the Cavaliers.  Moreover, Billy Somers had 33 rushing yards on four carries.
In his postgame assessment, Cavaliers Head Coach Richard Barry indicated what went wrong for the team against the Kingfishers.
"The inexperience of our young team showed as we had far too many turnovers in the game," explained Barry.  "We established a good running attack but could not balance it out with a passing game."
"Our defence played well but missed tackles and assignments hurt us."
Although it wasn't the result the Cavaliers wanted, the team is had some positives things to take away from the contest.
"Kevin Holland was everywhere on the field on defence and Ethan Leeman ran the ball very well," said Berry.  "Taylor Muise recorded our lone score with an impressive 47 yard field goal."
Sackville High Kingfishers will host crosstown rivals Millwood Knights on Saturday September12th at Metropolitan Field.  Game start is 3:30pm.  Meanwhile, the Cole Harbour Cavaliers will be gunning for their first win as they face Dartmouth High Spartans on Thursday September 10th at Burnside Turf.  Kickoff is 7:00pm
LOCKVIEW DRAGONS DEFEAT MILLWOOD KNIGHTS:
On Friday evening at Lockview High School, history was made as the Millwood Knights competed in their first NSSAFFL game against the hosts Dragons.
The hosts Dragons came away with the victory.
LHS proud to be a part of Millwood Knights history. #firstgameever Welcome to NSSAF Football Millwood! pic.twitter.com/1hyUIOg3QG

— Dragon Football (@DragonsFootbal) September 5, 2015
Note: Score and stats not available at press time.
Lockview Dragons will host JL Ilsley Judges on Sunday September 13th at 4:00pm.  Millwood Knights is looking to make even more history as they seek their first win this week.  The Knights will visit crosstown rivals Sackville High Kingfishers on Saturday September 12th at Metropolitan Field.  Game time is 3:30pm.
NORTHEAST KINGS TITANS 14, DR JOHN HUGH GILLIS ROYALS 7:
Under Friday Night Lights at Dr. John Hugh Gillis High School, Griffin Abbott scored a touchdown off an 80 yard kick return as the visiting Northeast Kings Titans defeated the host Royals 14-7.
Michael Ogilvie tallied a five yard rushing major for the Titans.
"NKEC played a very strong defensive game and great Special Teams," commented Titans Head Coach Reg Ogilvie after the victory.  "We need to work out some kinks on offense but it is very early in the season."
"Our front seven were outstanding."
Codey Macdonald scored the lone touchdown for the Royals.  On defense, Peter Storseth caught an interception.
Despite the loss, the Royals were content with how they played against the Titans.
"Overall I was very pleased with the game," expressed Royals Head Coach Nathan Cormier in his postgame comments.  "We came out a little tentative but once everyone got comfortable we stated playing much better."
"It was a very positive start to the season!"
Northeast Kings Titans will visit Central Kings on Sunday September 13th at 5:00pm. John Hugh Gillis will enjoy a bye this upcoming week.
CENTRAL KINGS GATORS 24, WEST KINGS WOLVERINES 14:
At Central Kings on Sunday afternoon, quarterback Connor Ross completed 11 passes in 15 attempts for 194 yards and two passing touchdowns as the host Gators downed West Kings Wolverines 24-14.
Ross also caught two interceptions as he played on the Gators defense as well.
Eric Holliefield scored a touchdown and amassed 108 yards on eight receptions for the Gators.  Nathan Meisner had an 85 yard punt return in the win.
"It was a great day the high light of the game was a packed house with fans the support was great," reflected Gators Head Coach Larry Priestnall.  "Our quarterback Connor Ross had a great day."
"Our defence played well with Nick Kane, Will King and Noah Fry holding down the middle."
As for the Wolverines, Colton Messon tallied a 45 yard rushing major while pivot Jacob MacLean added a score. Quinn MacNeill added a PAT.  The Wolverines other points came when the Gators conceded a safety.
While the Wolverines came out on losing end of this battle, they will take the positives and regroup in the coming weeks.
"Overall we had a good game with Josh O'Reilly making big gains with our running game," assessed Wolverines Head Coach Aaron Evans.  "We had a strong defence but had a big mismatch that we just couldn't overcome on the corners."
"We will take this loss as a learning g experience and tweet our line ups for future games."
Central Kings Gators will host Northeast Kings Gators on Sunday September 13th at 5:00pm.  Meanwhile, the West Kings Wolverines will be seeking their first win of the season at home against Avon View Avalanche.  Kickoff is 1:00pm
DARTMOUTH HIGH SPARTANS VS SYDNEY ACADEMY WILDCATS:
Note: Score and stats not available at press time
AUBURN DRIVE EAGLES 26, PRINCE ANDREW PANTHERS 19:
On Sunday evening at Bedford Hammonds Plains Turf, DaBraun Lewis-Mayo scored three touchdowns (80 yard kick return,  one rushing, one receiving) and amassed 257 yards as the Auburn Drive Eagles earned a 26-19 victory over Prince Andrew Panthers.
Pivot Myron Willis had 186 passing yards and two touchdowns for the Eagles in the victory.
Keith Lawton had a 25 yard touchdown reception for the Panthers.  Moreover, Zach Kane turned an impressive ground game in the loss and tallied a major.
On defence, both Jarrod Darrow and Owen Sutherland had fumble recoveries while Justin Parker forced a safety for the Panthers. Furthermore, Malik Beals and Jordan Diggs caught interceptions.
On special teams, kicker Nick Liberatore also had a standout performance.
"He was great all evening, kicking the ball though the end zone more than once, kicking several 40 plus yard punts and even longer kickoffs," commented Panthers Head Coach Joe Flemming.
In his postgame assessment, Flemming offered that a poor second half costed the Panthers the win. Despite the loss, he felt the players performed well and will use this game as a tool for improvement.
"Prince Andrew had a great first half on the scoreboard and in the field position battle," recalled the Panthers Head Coach.  "But second half growing pains, mistakes and a few key injuries caused us to let the lead and eventually the win slip through our fingers."
"However, with that said, everything we need to correct is quite achievable, and for every error made, someone made two great plays. Every player left it all on the field. So I'm very happy with the effort from our guys. We've got a great foundation to build on and we look forward to taking it up a notch against Sydney next weekend."
Auburn Drive Eagles will host Halifax West Warriors under Friday Night Lights on September 11th at Burnside Turf.  Kickoff is 7:00pm.  As for the Panthers, the team will travel to Sydney on Saturday afternoon to visit the Wildcats at 1:00pm.
JL ILSLEY JUDGES 9, HALIFAX WEST WARRIORS 6:
At Burnside Turf on Monday night, pivot Brendan Cleveland found Jack Underhill for a 33 yard touchdown reception in the dying seconds as the JL Ilsley Judges squeezed out a 9-6 win over Halifax West Warriors.
Prior to the major, Underhill caught an interception within the last minute of the game to give the Judges the chance to win the game.
JL Ilsley Judges will visit Lockview Dragons on Sunday September 13th at 4:00pm. As for the Halifax West Warriors, they will try to get into the win column under Friday Night Lights at Bedford Hammonds Plains Turf against Auburn Drive Eagles. Game time is 7:00pm.
(twitter: http://twitter.com/vohra_ameeta)
Advocating for football prospects one story at a time.