Playoff spots were determined after the final week of regular season action in the Scotia Division of the Nova Scotia Student Athletic Federation Football League (NSSAFFL).
JL Ilsley Judges won a thrilling game against the Horton Griffins 36-33 to secure first place and home field advantage throughout the playoffs with a 7-1-0 (14 points) record.  Meanwhile, the Halifax West Warriors enter the playoffs as the second seed with a 7-1-0 (14 points) record after a 28-8 victory over the Avon View Avalanche. Auburn Drive Eagles secured third place in the division with a 6-2-0 (12 points) record as the team breezed by Dr. John Hugh Gills Royals.  In spite of the loss to the Judges, the Griffins are entering the playoffs as the fourth seed with a 5-3-0 (10 points) record.
In the final game, Cole Harbour Cavaliers defeated the Northeast Kings 62-7.  Central Kings Gators had a bye this past week.
Here are the complete results from the final week of NSSAFFL action:
JL ILSLEY JUDGES 36, HORTON GRIFFIN 33:
Under Friday Night Lights in Wolfville, JL Ilsley Judges capped off a surprisingly tremendous regular season campaign as they squeaked by the Horton Griffins 36-33.
"Our matchup with Horton this past Friday was a big game with a lot of implications and it lived up to its bill as it was one of the most entertaining games I have seen in a long time," commented Judges head coach Steve Saunders after the win.  "The offense on both sides produced some great plays as the QBs and receivers really put on a show."
After the first quarter, the Judges enjoyed a 16-0 lead.  However, the Griffins rallied to take over the lead 18-16 at the half.
Judges wide receivers Andray Brady and Nathan Robinson led the scoring punch with two majors a piece.  Running back/kicker Joe Stuckless capped off a breakout regular season with 121 rushing yards on 16 carries, 1 touchdown and was successful on six conversion attempts. Quarterback Ben LeBlanc had 13 completions in 17 attempts for 257 passing yards.
In his postgame assessment, Saunders said he was impressed with how LeBlanc rebounded from a rough outing one week earlier. Even though the Judges defense had some difficulty, there were a couple of key performances.
"Ben had a poor night the week before against JH Gillis and for a Grade 10 kid to come back and play with the way he did really boosted the team," assessed the Judges head coach.  "Our defense didn't really shine with the exception of defensive end Eric Bowdridge and linebacker Tristen Oliver who came through when we needed it as Eric's interception with 25 seconds to go changed the playoff map as Horton was in field goal range just inside our 30."
"It was another game that could have gone either way so our semi with them this week should be a heart stopper."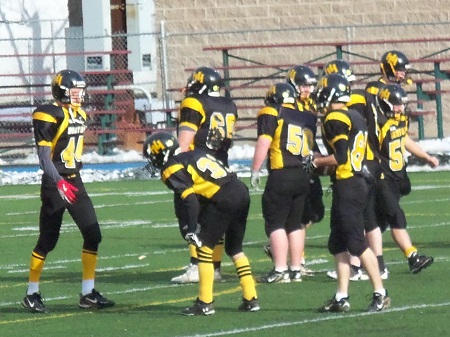 Meanwhile, the Griffins offensive unit played a strong game in spite of the loss.  Overall, the team amassed 249 rushing yards.  Cam Davidson (141 rushing yards on 18 carries) and Zach Gouthro (108 rushing yards on 18 carries) each scored a touchdown.  Quarterback Kyle McMullin had 19 completions in 32 attempts for 215 passing yards, two touchdowns and one interception.
"It was an exciting game, back and forth the whole time," said Griffins head coach Alec Hyndman after the loss.  "Both teams came to play; we just didn't end up on top."
"They did some things that we didn't expect, and think we did the same to them."
Defensively, the Griffins had problems against the Judges.
"It was the first time I watched our defense get burned deep three plus times," reflected the Griffins head coach.  "It was something we prided ourselves on; not giving up the big play."
With a rematch on the horizon once again in the semi-finals, Hyndman has faith the team can rebound and succeed against the Judges due to the motivation of the Griffins.
"We get another shot at JL in the first round, and I know the boys are going to be hungry for redemption," commented Hyndman.  "If we can sure up our holes, and exploit some of the things we learned, we feel good that the end result this time around will be in our favour, but we know it's going to be a hard fought game, and we won't be taking it easy this week in practices."
"Of the boys I spoke to over the weekend, they are all pumped to get back to practice and work hard to get to the championship game."
Having playoff experience will be a huge confidence booster and advantage for the Griffins going into the playoffs.
"Playoffs are a new season," explained Hyndman.  "We are going to build off the nine guys that played in the Tier 1 championship last year and look for them to lead us to this year's championship."
HALIFAX WEST WARRIORS 28, AVON VIEW AVALANCHE 8:
On Saturday afternoon in Windsor, the Halifax West Warriors secured the second seed in the Tier 2 playoffs as the team defeated the Avon View Avalanche 28-8.
Warriors pivot Scott Borden had nine completions in 13 attempts for 126 passing yards and two touchdowns.  Offensive dynamo Quintynn Parsons (five receptions for 88 yards) found the end zone twice- one of those scores on a 58 yard reception. Running back Javon Parris (12 carries for 93 rushing yards) also scored a major in the victory.
"We started out strong but struggled a bit during the second half of the game," added Warriors offensive coordinator David Rent. "Avon View is a very physical team, and they were there to play."
As for the Avalanche, pivot Cory Whitney connected with Trevor House for a touchdown reception.  Defensively, AJ Whitehead led the way with 12 tackles.
"Our guys battled the best they could, but we ran into a big tough team from the West," commented Avalanche head coach Rory Campbell after the game.  "Coach (Dave) Kelly's team executed in all three phases and deserved the win."
"We're looking forward to next week though and we know that anything can happen in the playoffs."
AUBURN DRIVE EAGLES 55, DR JOHN HUGH GILLIS ROYALS 6:
At Burnside Turf on Sunday afternoon, the Auburn Drive Eagles punched their ticket to the Tier 2 playoffs with a 55-6 rout of Dr John Hugh Gillis Royals.
John Cole scored two touchdowns to lead the way for the Eagles. Trae Colley has a monstrous day on the field as he racked up 247 all-purpose yards and scored a major. Kareece Riley amassed 189 all-purpose yards and found the end zone once.
Defensively, Matt Cohoon registered 13 tackles while Artus Biloque and Josh Thomas each had nine tackles a piece.
"Daniel Sule shut down their passing game with 2 early interceptions," added Eagles head coach Chris Anstey of his team's key performances.   "John Cole and Artus Biloque controlled the edges and dominated in pass rush situations."
"Trae Colley and Kaereece Riley combined for nearly 500 yards."
One player who had an impressive outing was Nick Bronson.   The Eagles quarterback had five completions in eight attempts for 133 passing yards and two touchdowns.
"Nick Bronson had a great debut as he was forced to sit the entire year due to transfer rules and came out today with a big game," added the Eagles head coach.
Having a week off from competition served as an advantage for the Eagles in their final regular season game.
"It was a great week of preparation coming of the bye week," commented Anstey.  "We were healthy and well rested."
The Eagles hope to carry the momentum of this win into their semi-final game against the Halifax West Warriors.
"The last time we visited Mainland Commons and Halifax West, we got flat out embarrassed," said the Eagles head coach.  "I expect a much better game this week with all of our weapons available to us."
As for the Royals, Sam Demone rushed for 107 yards and scored a touchdown in the loss.  Sam Vautour opened the game with a huge 83 yard kick return while Brandon Bowles had three catches for 63 receiving yards.
"Moving forward we need to keep playing with confidence from the opening kickoff to the final whistle," said Royals head coach Dave Van Den Heuvel in his postgame assessment.  "Hopefully, we'll get some guys back from injury and play good fundamental football."
COLE HARBOUR CAVALIERS 62, NORTHEAST KINGS TITANS &:
(Note:  Player/Game Stats and postgame comments were not available from either team at press time)
(twitter: http://twitter.com/vohra_ameeta)
Advocating for football prospects one story at a time.