Ryley Bednarski is entering his 11th season on the football field as a Sisler Spartan. Over the course of his years on the field, Ryley has suited up for the North Winnipeg Nomads, and Sisler Spartans.
"I love the physical part of being in the trenches and being face to face with the opponent and pushing them around," responded Ryley.
At 6'4, Ryley believes his size gives him an edge on the field.
At the moment Ryley has not committed to any university, but he would love to have the opportunity to play for the University of Manitoba Bisons.
With his size, Ryley thinks he could adjust to the next level of football well, but being in a new environment with new people will be something that may be difficult at first.
Ryley is planning on doing in season and offseason lifting to better himself, and to prepare himself physically to play with people older than him.
The most influential person in Ryley's football career has been Dan Noordman. Ryley mentioned, "He was my coach in Nomads for 8 years. He always made football fun, always encouraged me to keep playing football when I didn't feel like playing anymore, and he's the one that has taught me almost everything I know about football."
Football to Ryley is a group of people who come together, put blood, sweat and tears and become a family. "Football teaches discipline, hard work, and how to work with others to create the outcome that you want," said Ryley.
Winning his third championship with the Junior Varsity Spartans was the most memorable experience for Ryley in his time playing football.
Over the course of his eleven years on the field, Ryley has learned discipline and respect.
Ryley Bednarski
Offensive line (Nose Tackle)
6'4, 360 lbs
Teams: Sisler Spartans (WHSFL), North Winnipeg Nomads (MMFA)
Class: 2018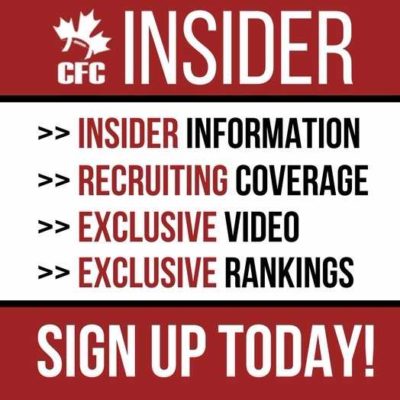 Advocating for football prospects one story at a time.