Ontario standouts newest recruits to join AUS team's 2014 class.
Two Ontario recruits are moving out East to begin their CIS careers.
Both Jon Shaw and Aaron Bourdages are the newest members of the Acadia Axemen and will join the team for the 2014 AUS season.
JON SHAW:
The 6'4, 225 pound quarterback from Stittsville, Ontario was impressed with the Axemen coaching staff.
"Coach (Jeff) Cummins and Coach (Chris) Judd come across to me as player coaches; coaches that strap on the pads and go into battle with you," said Shaw.  "I think any kid in the country would want that and they are a huge reason for me to join the Axemen family."
With his commitment to the Axemen, it has given Shaw a second lease on his football career.
"Originally I was to play at home for Ottawa University this fall," explained the Ontario pivot.  "When I was not admitted academically into my program, I grew discouraged if I would even get to play the game again."
"Speaking with Coach Judd on the phone, he installed in me the importance of following through with my commitment to not only play university football, but more importantly earn my business degree. It was a no brainer that Acadia is the perfect match to do both. It hasn't been an easy road and as always in life there are most definitely going to be doubters, but with a strong faith, amazing family and support of incredible friends.  I'm excited for this next chapter. Also, as I was born in the Maritimes, my parents now have a decent excuse to come back and visit the old stompin' grounds."
Shaw joins the Axemen after enjoying a successful high school stint at South Carleton.  During his time there, the pivot was a four time City All-Star selection and a two-time Team MVP.
"Jon Shaw is a prototypical pocket passer at 6'4 and can launch the football," commented Axemen Head Coach Jeff Cummins.  "He has a lot of talent, potential and needs to harness those attributes here at Acadia."
"We believe Jon can be a very good football player and trust Acadia University can bring that out in him. We welcome Jon to the family."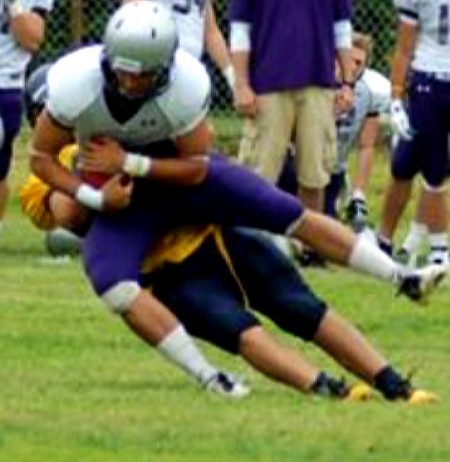 AARON BOURDAGES:
The 6'3, 230 pound defensive end from Sault Ste. Marie, Ontario was impressed by the special interest in the Axemen had in him.
"The coaches are determined to make me the best student athlete that I can be," expressed Bourdages.  "Also, I found that these coaches seemed to have taken an interest in me as an individual and not just another recruit."
"I was able to visit the campus earlier in the year and I loved the atmosphere."
For Bourdages, he would not have been able to get this point without the guidance of some key individuals.
"I'd like to thank everyone who coached me and helped me throughout the years," added the Ontario defensive end.
Bourdages comes to the Axemen after completing his high school career with St. Basil Saints of the Northern Ontario Secondary School Association (NOSSA).  Additionally, he suited up for the Sault Sabrecats of the Ontario Varsity Football League (OVFL).
"Aaron comes to us from a great high school program at St Basils and the Sabrecats OVFL team which continues to produce CIS level players every year because of their great coaching staff," commented Cummins.  "Aaron is a very good pass rusher and has unlimited potential to be a great defensive end here at Acadia."
"Success breeds success and Aaron was an OVFL All-Star and Defensive MVP and we can't get enough of those kinds of players. We are excited to get Aaron on campus and help him become the best possible player and student he can be at Canada's premiere undergraduate university. We welcome Aaron to the family!"
(twitter: http://twitter.com/vohra_ameeta)
Advocating for football prospects one story at a time.