The Ontario Prospect Challenge is an elite three phase event that culminates in an all-star game in the spring of 2016.  For more information CLICK HERE.  The TRYOUT SERIES begins in October and goes until the middle of January 2016.

Registration has begun for the 2015-16 Ontario Prospect Challenge…REGISTER NOW 

Positions:
Wide Receiver, Defensive Back, Quarterback
Height/Weight:
6'3", 165 lbs
Teams:
Glendale Gemini (high school: TVRAA)
Commitment:
None
Official Visits:
Waterloo
Considerations:
Waterloo, Carleton, Open
Class:
2017
Connor DePodesta has played football for nine years, starting with the London Minor Football Association (LMFA).
He has had the opportunity to play all different positions on both offence and defence.
When he got old enough, he began playing for the Forest City Thunderbirds in the Ontario Football Conference (OFC).
He then played for H.B. Beal, his high school in Grade 9 as the starting quarterback before moving schools to play with the Glendale Gemini of the Thames Valley Regional Athletic Association (TVRAA).
Connor played as a back up quarterback, and this year played as wide receiver and defensive back.
The Gemini is hoping to be playing with the London Jr. Mustangs this upcoming summer.
"My goals (for the Ontario Prospect Challenge) are to improve on my skills and speed," said Connor.
"I would like to have more exposure and I want to make CFC's top 100 next year," added the 2017 graduate, who described the #CFC100 as a major goal.
"I want to be the best player that I can be."
During the offseason, the Gemini plays keeper for his indoor and outdoor competitive soccer league, as well as basketball for his high school, which help him with hand and footwork skills.
He also works out in the gym as much as he can to work on building muscle mass.
On the field, Connor's idol is Odell Beckham Jr.
"Not only is he one of the best receivers in the NFL, but he has a love for the game and it shows," commented the Gemini.
"I love playing football because when I am on the field I feel at home," explained Connor. "There's no place I'd rather be."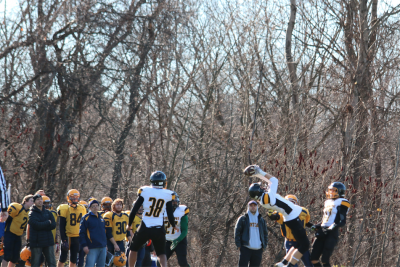 Advocating for football prospects one story at a time.